For any given person on a college campus, life is busy. It can be difficult to maintain a healthy lifestyle when you are constantly on the go. So here a few handy mobile apps that can make it a little easier.
Thunderspace
$1.99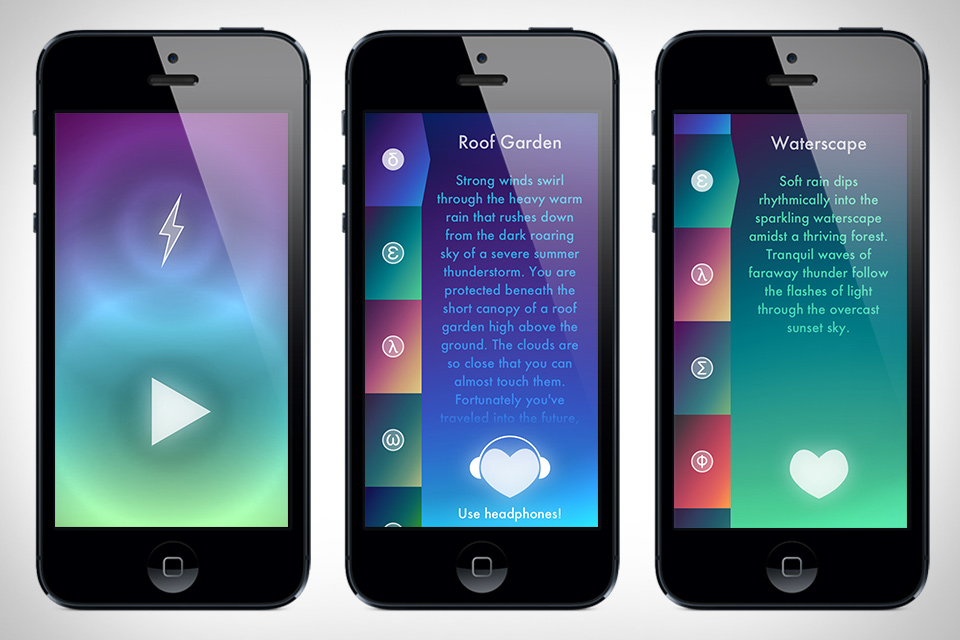 This app is a perfect way to escape from the fray for a quick 30 minutes. It offers excellent stereoscopic 3D audio to make you feel like you are in the middle of a thunderstorm, it's so real you'll wonder why you aren't getting wet! Just plug your headphones in and close your eyes and the library becomes a beautiful roof garden or your room can become a rainforest. Thunderspace also offers realistic lightning flashes using your iPhone's flash which is perfect for throwing on at night if you are someone who loves sleeping during a thunderstorm.
MyFitnessPal
Free
It's hard to eat healthy when you barely have time to finish your homework. MyFitnessPal is a food and exercise tracking app/website who's aim is to make staying healthy or losing weight as easy as possible. Give it your goals and it will calculate the total amount of calories you need to consume to accomplish them. The app offers a barcode scanner which has a large database of foods in order to make the process as easy as possible. You can connect with your friends and compete or just help motivate one another. In fact, research has shown that people who try to be healthier with friends are far more successful than those who do it alone. So get a group of friends together and make a game of it! It's available on all mobile platforms so don't let anyone out of it because they don't have an iPhone, they'll be glad you convinced them.
Runkeeper
Free
Staying active is another huge piece to staying healthy, and it's nice to see the benefits of it. Runkeeper is a free app which offers different sorts of activity tracking and provides you with a plethora of information. It gives you charts with pace, altitude, and calorie reading. It also works with certain heart rate monitors to track whether or not you are getting in shape! It's another awesome way to compete with friends and in fact it syncs with myfitnesspal so that you don't have to track that data twice. It also offers numerous training plans for different activities, such as working to a sub 55 minute 10k or improve your half-marathon time. The app isn't just for runners, it also tracks biking, hiking and many other activities. The app also offers a paid subscriptions which comes with other features including a live tracking function which lets people follow you during your run.
Lumosity
Free
Not really interested in tracking your food intake and exercise? Check out lumosity. It's a great service which offers games that improve your brain. Follow a schedule and track your progress and see as your scores get higher! The games don't feel educational at all, and there are many different ones as well. Each game focuses on different mental abilities and will ultimately make your brain function better in all aspects of life.
Moves
Free
This last app is another one that doesn't involve tracking food or extra exercise. It's similar to runkeeper in that it tracks your activities, but the difference is that it offers automatic walking tracking. It will let you know the number of steps you have taken and the calories you have burned walking to and from meetings and class!
Summary
Staying healthy is hard when you are stuck between class and the library. These apps will make being healthy as easy as selecting what you've eaten for lunch or simply just turning the app on.