Dear Tufts Ballroom Dance Team Members and Alumni,
You are cordially invited to attend our 20th Anniversary Reunion on Saturday, January 24, 2015 from 7:30pm to 10:30pm at 51 Winthrop Street. The event will feature food, performances from team members past and present and, of course, social dancing.
Visit our Facebook Event for more information regarding registration.
If you would like to be included in the Tufts Ballroom Team Alumni E-List, please fill out this form:
https://docs.google.com/forms/d/1q639izT_wFeZZL0jJU-6yRvR2pjCQ0nYqwsHSAs6-Gs/viewform

Please help us spread the word about this reunion! All Tufts Ballroom alumni and current members are invited to attend.
If you would like to help the Executive Board connect with team alumni, please contact the historian.
Sincerely,
Tufts Ballroom Dance Team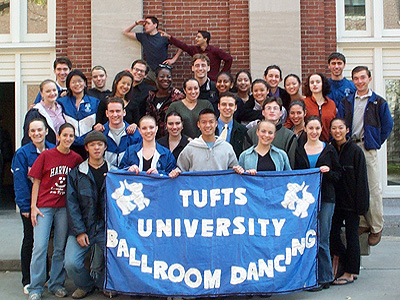 Tufts Ballroom Dance Team, circa 2001