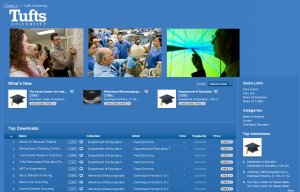 iTunes U delivers free educational content to the world via Apple's iTunes Store. By publishing content to the Tufts iTunes U site you will be serving a global audience of lifelong learners and contributing to the open education movement alongside many other institutions.
Faculty and staff members of any Tufts University affiliated group can request that collections be published on the Tufts iTunes U portal. Read more about the requirements and guidelines for iTunes U material. If your material fits the requirements, request a new collection here.


Quick access: Tufts University iTunes U (opens in iTunes)
Learn more: Visit the Apple iTunes U website to get a basic overview of what iTunes U delivers to students.
Get support: Email edtech@tufts.edu.
Take a workshop: See our Events page for upcoming workshops, or contact us for one-on-one training.