Key Findings from the ECAR Study of Undergraduate Students and IT, 2012
The Tufts Students Respond 2012 report summarizes the results of the April ECAR 2012 survey that Tufts completed. A total of 701 Tufts undergraduate students participated in the survey – 201 seniors, 133 juniors, 165 sophomores, and 202 freshmen. This sample represents approximately 14% of the undergraduate student body at Tufts.
Key Highlights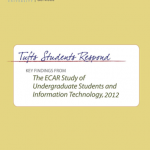 Almost all students own a laptop as a primary computer for their academic work whereas desktop ownership and usage are significantly lower.
Students are most likely to use technology that they own and the correlation between technology ownership and usage is high.
Most students who own a smartphone perceive it as the 2nd most important technology asset for their academic success (laptops are first).
Students request more use of learning management systems (i.e., Trunk), podcasts/webcasts, and freely available course content in their courses as they view access to electronic materials and communication as important for their academic success.
Students prefer a blended mode of instruction and indicate an interest in learning new technologies that can be useful for their academic success.
Students believe email, face-to-face interaction and communication through Trunk are the most effective forms of communication to achieving their academic success.
Students feel that leveraging social networking tools can support their interaction with other students about their coursework whereas such methods are not preferred for their interaction with their instructors.
Resources