The following was submitted by Adam Grenier, instructor of EXP-0087-S: Microfinance:
As part of a "Legacy Lending Experiment," each student was given $25 in the form of a gift card to be used on the kiva.org website courtesy of the Distler Family Endowment.  Students were instructed to browse and read the profiles of microcredit clients/borrowers from around the world.  Each student identified a borrower with whom they felt a connection.  In the past, connections have been made because of the age of the borrower, their gender, how they make a living, where they live or simply because they had a radiant smile in their profile photo.  Eventually, upon complete repayment of the loan to the lending organization, each student will have $25 back in their kiva accounts to lend to another person possibly in a different part of the world.  Hence, a lending legacy is created.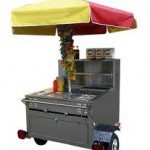 Sidenote that may be of interest:  One of my students, Thomas Didio, chose a young man who runs a hot dog/hamburger cart in Colombia (http://www.kiva.org/lend/281698).  This past week I took a research trip for the class to Colombia and was able to track down the young man for an extensive interview.  We explained the connection between him and my students and showed him pictures of the class.  He was very touched.  We essentially followed the dollars from Tom at Tufts to Rosemberg in Colombia.  It was very cool.  I captured the whole adventure on film.