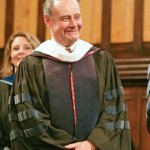 Mark it down…Wednesday, October 19th at 7:30 pm. We're planning an event to coincide with the inaugural activities leading up to President Monaco's big day. University Professor Sol Gittleman will be speaking about:
BUILDING A UNIVERSITY: THE PRESIDENTS OF TUFTS, 1852-2011
From one building with twelve students, six faculty and little money on Walnut Hill in 19th century Medford, to today's four-campus university on two continents, Tufts has evolved thanks to the vision of thirteen presidents who had the power to transform an institution. They are more than just portraits in the Coolidge Room.