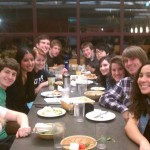 For our first blog post about the Perspectives program we have a two for one special: insights from co-leaders Bill Cotter and Travis Grodkiewicz!  As the deadline to apply to teach in this program quickly approaches check out their reflections on what it was like to be a part of Perspectives this year! 
Bill's Perspective:
Freshman year can be a serious roller coaster.  My greatest goal in teaching a Perspectives class was to create an environment where our students felt at home, where they could escape the roller coaster of college for a bit, relax, have fun, and of course learn something in the process.  Basically, I was trying to create something that I wish I had had during my own freshman year.  Somehow (I guess through a combination of hard work and luck) we managed to succeed, and I think every one of our students would tell you that coming to class was a highlight of their week.  At the very least, it was for me.  
I can tell you that this is the most rewarding thing I've experienced so far at Tufts, and I'm pretty sure Anthony Monaco winked at me once, so that's saying something.  I have made some amazing friends through the experience: with my ugly co-leader Travis, other Perspectives leaders, and of course our students.  I've learned a lot about myself, and about the topic of our class: independent film.  Teaching a class is a lot of work, but at the same time it's some of the most fun work you'll do here at Tufts…and it pays off in spades.  I would seriously encourage you to step out of your comfort zone a little and go for it.  I'm so glad I did.  I'm going to remember this experience with Perspectives for the rest of my life.
Travis's take on the program:
The Perspectives Program is amazing.  I would say it is one of the few things that have really defined my Tufts experience.  My co-leader, Bill, and I taught our topic "The History of Independent Film" to a group of awesome first-year students.  I don't use the word awesome lightly here, as most people do; these students actually inspire awe.  Besides just teaching our class, Bill and I also served as advisors when the students picked both their fall and spring semester courses.
As a Perspectives leader, I not only used a wide variety of skills, but also improved these skills and learned an immense amount along the way.  I learned (fast) how to teach a course and actually connect with people, as opposed to just lecturing which anyone who can memorize words can do.  I also became much more knowledgeable about the subject that I was teaching about.  At the end of the day I may have learned more than the students did!  What you learn by teaching through Perspectives is describable in some ways, as mentioned above, and indescribable in others.  The goal is to create a fun, exciting and friendly atmosphere for first year students to express themselves and become familiar with Tufts.  The ability to do this isn't something you take a class to learn, it's something you have to go and do. The ability to do that is rare and it takes a lot of practice to perfect, but if you're up to the challenge I strongly encourage you to apply to be a Perspectives leader.  You won't regret it.  
Applications to teach a perspectives class are due Wednesday, March 14th.  Don't miss out on this great opportunity!