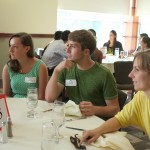 This past Thursday, we welcomed our Explorations and Perspectives student leaders back to the Hill with one very delicious dinner. The meal ended with a multi-layered chocolate cake and a talk about what it truly means to be an inspiring, courageous, and effective teacher. Steve Cohen, a senior lecturer in the Education Department, highlighted the fact that to critically engage a room full of students and to awaken their passion for learning, the method of relying material and cold hard facts needed to meld together for a truly outstanding educational experience. With this thought freshly imprinted on their minds, Steve sent our student leaders to work creating propaganda posters. Armed with speeches delivered by Communist, Nazi, and Socialist leaders from the World War II era (as well as one very large bag of crayons), groups of students chose which party they would represent with their poster.
Groups huddled around blank posters discussing their party's point of view and how it would best be captured in propaganda form. Once inspiration hit, each group took up their crayons of choice and set out to convert the masses.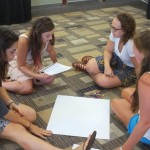 The last few minutes of the exercise crept up quickly on quite a few groups, and teams furiously colored their posters together in order to finish their masterpieces.
The presentations followed, and each group provided strong reasoning behind their choice of word and image on the poster as they related to the ideals of their chosen party. As Steve wrapped up his lesson, he posed a very simple question to the entire group, "Will you remember that lesson? Will you remember what you learned?" Everyone nodded their head up and down enthusiastically.
As our student leaders soon welcome first year students to Tufts and begin their teaching journey, Steve's lesson of what it means to engage and challenge a classroom remain on their minds. They have the tools necessary to tackle the upcoming semester with vigor and excitement. Here's to our 30 student leaders creating classroom environments that will not only positively impact the way their students think about the world, but what it means to be a dynamic member of the Tufts' community.