The energy on campus and around the country built up greatly this past Tuesday, and on the Hill this election buzz climaxed with our Election Night Extravaganza!
The Campus Center first began to feel the presence of a crowd around 7:30pm. Student groups with diverse interests and enthusiasm for the night's affairs lined the Commons eatery. Each group decorated their table with flags, food, computers, posters, stickers, and oh so much more. This Information Fair drew in hundreds of students, as Jumbos came together to discuss important issues and contemplated what the night would bring.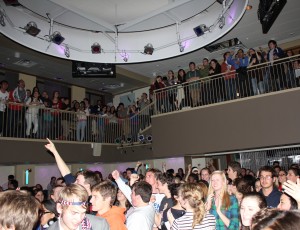 Campus media groups settled into the upper level lounge early in the evening. WMFO broadcast live throughout the event, and TUTV, the Daily, and the Observer all covered the election and our event throughout the night. Interviews and pictures abounded, and when President Monaco dropped by he eagerly answered questions posed by the media groups.
As the night wore on, Hotung received more and more visitors until a student, faculty member, or staffer occupied every inch of the space. Our 3 MCs, Clay Grable, Mitch Friedman, and Matt Stofsky kept the masses well informed and entertained, and comedy troupes and faculty members also balanced out the extensive news coverage with fresh insight and humor.
Cheers, clapping, and happy voices emanated from Hotung throughout the Campus Center as polls closed and results were reported. The ExCollege production crew stayed in constant communication with one another in order to make sure Hotung was fed the most up-to-date information. The energy in Hotung exploded right after 11:15pm when Howard Woolf, our Associate Director, announced to a room of over 700 people that President Obama had been re-elected (you can even watch the video & check out pictures).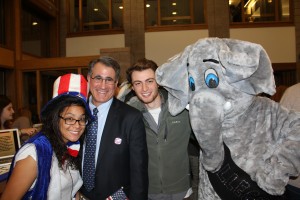 That night, our Tufts community banded together to celebrate this election and the powerful part that each individual plays in this monumental political event.