In 1964, the ExCollege began its journey at Tufts with over 60 students, staff, and faculty participating in one class: The Contemporary European Novel designed by Seymour Simches, Juan Alonso, and Sol Gittleman. This course was not only the first comparative literature course taught at Tufts, but also the first class dealing exclusively in modern literature taught in translation. Fast forward 50 years and the ExCollege houses over 50 courses offered for credit to Tufts students. This spring, almost 800 students enrolled in an ExCollege course, ready to dabble in the experimental and be immersed in the wonderful world of innovative, interactive education.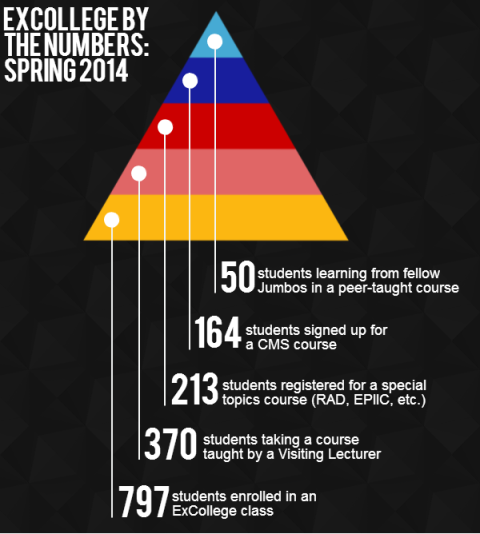 Out of the 24 selected Visiting Lecturer courses, 11 filled to capacity with excited Tufts students. So what were these popular classes?
American Superheroes: Power, Politics, and Morality
2D Animation
The Corset and the Crown: The History and Politics of Fashion
Medical Spanish
The Mind's Eye: Neuroscience in the Movies
Positive Psychology
The Right to Privacy in Modern America
Experimenting with Philanthropy
On the Record: Communicating for the Government
Introduction to Sports Management (an online course)
Microfinance
Tufts students continue to amaze us with their ability to tackle challenging topics, projects, and discussions in the classroom, and we can't wait to see what this semester has in store for our ExCollege classes!