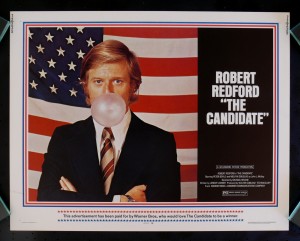 Almost from the beginning, American culture has thought of politicians as one rung up on the slime ladder from used horse, and then later, used car salesmen (and I use the masculine here on purpose). Perversely enough, however – and perhaps it stems from that uniquely American strain of unbridled optimism – every four years we forget and become immersed again in the festival of electing a president.
Now I know some of you are going to say, wait a minute, that's exactly why Donald Trump is doing so well, because he's proudly NOT a politician. And my response is: "Baloney." Trump has never been an office holder, but he's a politician through and through, and a pretty good one at that, assuming you define politics as I do: the art of running for office, not the business of governing.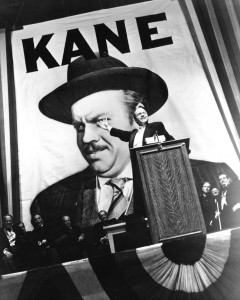 During the nineteenth and early twentieth centuries, plays, musicals, and vaudeville acts latched on to politics as fit topic and fair game. At the same time, the theatricality of campaigning turned elections into another kind of entertainment. These twin impulses have continued on, famously, through movies about politics on the one hand (Citizen Kane, Nashville, The Candidate) and in the political arena itself — first with radio coverage and then with the medium that transformed campaigning forever: TV.
Which brings us back to Mr. Trump.
John F. Kennedy was the first politician who understood the power of TV. Bill Clinton moved that understanding forward in the age of the twenty-four-hour news cycle. But Donald Trump has taken it all to another level.
By training, experience and acumen, he not only gets that reality TV, along with its bastard child, YouTube, rule the media landscape, he also knows that, in many ways, they've set the tone for our culture. And he's Citizen Number One in this brave new world. He thrives on it.
Look no further than Trump's use of "controversy" on the stump. It's calculated, nuanced, carefully scripted and timed – all the while appearing to be haphazard — and as masterful as it was on his wildly popular reality TV show, The Apprentice.
In addition, rather than offer substantive positions, Mr. Trump has taken the politician's art of sloganeering to a reality TV extreme.  Think about his wall across our southern border. It's a striking, simple, and completely absurd image straight of the special effects division of any major movie studio. Hence it's beauty. Presented over and over again, it becomes familiar and meaningful to many who want the complexities of a problem such as immigration to be swept away with one grand gesture, Like any good Marvel Comics hero could do.
But the most powerful aspect of Mr. Trump's campaign is his channeling of the great Saturday Night Live stars. As with Chevy Chase, Gilda Radner, or Bill Murray (to name just a few), Mr. Trump is a king of the "inside." With nods, winks, gestures, a knowing smile, a shared catchphrase, he plays to his audience and with his audience, while at the same time playing (read "manipulating") his audience. And the upshot is that "his audience" contains not only supporters, but the media ("mainstream" and otherwise), and all the rest of us, too.