We love going into an independent bookstore and finding a shelf of "Staff Picks" that not only recommend great books, but also provide a glimpse into the interests and personality of the staff who recommend them.
In that vein, here are some personal favorites by ExCollege staff if they had time to sign up for a Fall course.  Check out all our course offerings here.  Registration opens June 6.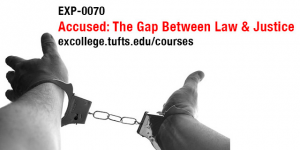 ExCollege Staff Member: Director Howard Woolf
Course he'd like to take: Accused: The Gap Between Law and Justice (EXP-0070)
"I'm fascinated by the personal story of instructor Sonja Spears (J '86), who was an elected judge for twelve years in New Orleans. Despite her unblemished legal career, she endured two years of intense scrutiny as the target of a federal criminal investigation. She was ultimately cleared without any charges being filed, and the office in charge of her prosecution has faced questions of prosecutorial misconduct
I love the complexity of New Orleans, and Sonja's experience there gives the course a unique perspective on the wrongfully accused and what 'justice' means in this country today."
ExCollege Staff Member: Madeleine Delpha
Course she'd like to take: All courses on reproduction and art
"As the parent of a four-year-old, I'm already thinking about age-appropriate Sex Ed: From Pre-K to Grade 12 (EXP-0041). I'm interested in the relationship between sexuality and gender from different cultural perspectives, a topic also explored in Reproductive Health: Gender, Race, and Inequality (EXP-0044).
At the same time,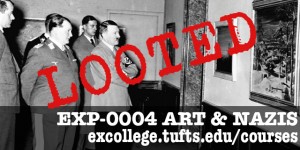 the artist in me would love to take Guerilla Performance Art & Politics (EXP-0018) taught by Milan Kohout, who has been on the front lines of political art activism.
Finally, the art historian in me would not miss Art and the Nazis (EXP-0004), and its analysis of why modern art was so threatening to the Nazis, and why they were drawn to certain styles of centuries-old art."
ExCollege Staff Member: Joseph Abrantes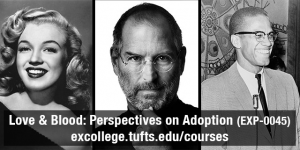 Course he'd like to take:    Love and Blood: Perspectives on Adoption (EXP-0045)
"The topic is something I can relate to personally.  While each person discussed in the course has a different experience – whether they were orphaned, fostered, and/or adopted – they share a common experience of being part of a family that was disrupted.
My runner-up choice would be EXP-0054 The Aesthetics of Commercial Culture, because how often do you get to study Queen Bey?"

ExCollege Staff Member: Amy Goldstein

Course she'd like to take:   Women and Water: Fighting for Environmental Justice (EXP-0048)
"I have a longstanding interest in environmental justice (see my previous blog post), and I'm always fascinated by the forgotten roles that women have played in history and science.  This course seems to be a brilliant combination of environmental studies concepts viewed through the lens of the role women have played in conservation and environmental movements, with a focus on water."
Need more suggestions? Just ask us!