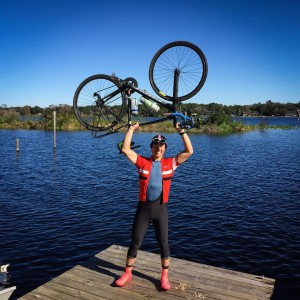 What did YOU do over the holiday break?  Tufts student and Friend of ExCollege, Zhou "JJ" Zhuangchen rode his bike from Boston to Orlando to raise money for Reporters Instructed in Saving Colleagues (RISC). Here's his blog, jjridesforrisc.tumblr.com, with beautiful photos of his encounters. Unfortunately, JJ found it necessary to punctuate his post with the hashtag, #suffer. Looks like it was worth it.  Congratulations, JJ!
This post sets the stage: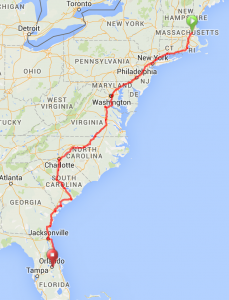 I created this page for my winter bike ride from Boston, MA to Orlando, FL this December and January. The ride is roughly 1600 miles, terrain is unknown and weather could be horrible. I will be riding about 6 hours per day to cover about 80 miles, and hopefully finish the ride within a month.
As a prospective photographer, I am deeply concerned with the dangerous conditions that freelance photographers, writers, videographers and journalists working in conflict zones are facing. To be properly equipped to work in these situations, they have to pay thousands of dollars for training, which they sometimes simply cannot afford. I came across the organization RISC (Reporters Instructed in Saving Colleagues, here is their website: http://risctraining.org/) a few months back. They are doing free training for freelance journalists to help themselves and others should the unfortunate happen in combat zones.
Since RISC's training is free for participants, the amount of money RISC raises determines how many reporters can be trained. For each overseas workshop participant, RISC needs to offset roughly $1600 dollars of cost. I hope my ride can help at least five freelance journalists to receive the training–-thus, I set the goal of the fundraiser at $8,000.