T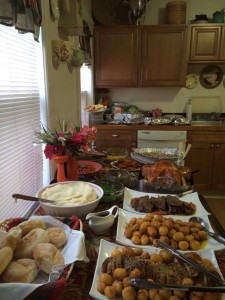 he amazing thing about Thanksgiving – and really all holidays – is that everyone celebrates them differently. The one easy way to understand that: FOOD. Sure, turkey and pie have become mainstays in households across the county, but we all have unique traditions and customs that transform this national celebration into our own special day.
Anne-Marie sits down with her family on Thanksgiving Day to a table full of traditional Vietnamese dishes. Rachel, who came to the US from Cuba, digs into congris, roasted pork and maduros. And Adam, whose family is Italian, sits down to a spread that includes – you guessed it – meatballs!
As a first-generation American, our Thanksgiving dinner is infused with some Portuguese flare. At my aunt's house, that means almost solely Portuguese dishes – they've stayed away from turkey, cranberries and stuffing somehow.
At my father's house, however, you will find an interesting mix between Thanksgiving staples and Portuguese classics.
Sure, we have a roasted turkey, but it's stuffed with linguiça and chouriço.
Next to that, you'll find some carn e assada (roast beef) and bacalhau (cod fish).
Next to the mashed potatoes there are Portuguese-style roasted potatoes.
Next to the corn are some couves (sprouts).
And of course, the prequel to all of this is some kale soup, or calde verde!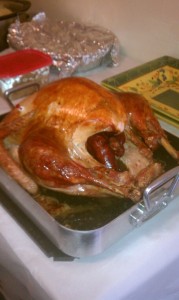 As a child, I was always fixated on our family's traditions. In fact, I would actually get upset if something didn't go according to plan – or my perceived plan: "Mom, what do you mean you didn't make the bean cake!?"
I actually hated bean cake… but it just didn't seem the same without certain foods or individuals to share them with. But with age, I understood that traditions inevitably change or evolve. Our once gigantic Thanksgiving dinner, where my parents hosted twenty or so relatives, shrank to a more modest dinner with my immediate family.
Time changed our family dynamics because "life happens"– as a close friend likes to say. But it does. Children become adults with their own families, people move away, an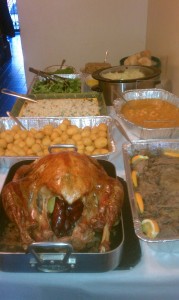 d others may no longer be with us.
I like to think the ten-year-old me had it half right, though, because there is one tradition that remained relatively constant: our FOOD.
I will look at our spread tomorrow and think simultaneously about how alike and different we are from other families. Anne-Marie, Rachel, Adam, and I may all be celebrating Thanksgiving – but our dinner tables will tell much different stories.
And that is something to be thankful for.