This is a Fletcher story:  Of the community that connects us, and about one person's achievement in uniting the community while improving the world.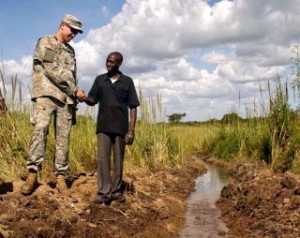 The guy on the left in the photo above is Ben Sklaver.  Ben graduated from Fletcher in 2003 and, having volunteered for the Army Reserve, was commissioned when he graduated.  While on active duty in the Horn of Africa, Ben spent considerable time in northern Uganda, where his work often focused on improving access to safe drinking water.  Upon his return to the U.S. in 2007, he founded a non-profit, ClearWater Initiative, to continue that work. ClearWater says that, in its first two years, Ben's efforts helped provide clean water to several thousand Ugandans, prompting many in the region to refer to him as "Moses Ben."
In 2009, Ben was redeployed, this time to Afghanistan, where he worked in a civil affairs unit performing work similar to what he had done in Uganda.  On October 2, 2009, at age 32, he was killed by a suicide bomber while on foot patrol in in Kandahar province.
The loss of its visionary leader didn't stop ClearWater.  The organization says that:
Since Ben's death, we have worked to fulfill his vision of compassion and hope for those whose lives are challenged by strife and uncertainty.  Our goal has remained the same: to bring water and, ultimately, health and opportunity to those far less fortunate than we are, and in doing this, we have facilitated access to clean water for nearly 7,000 people.  ClearWater Initiative is now a full-time operation with staff in the U.S. and Uganda.  For our fifth anniversary year, we will implement 20 projects in hard-to-reach areas of northern Uganda.  We are proud of all we have accomplished and know that Ben would be amazed to see how far ClearWater has come.
People who have been around Fletcher for a while haven't forgotten Ben or his story, but he and ClearWater were brought back to my attention recently via a letter from ClearWater's (volunteer) CEO (and Ben's classmate), David Abraham '03.  About Ben, David wrote:
I admired him for his integrity, his respect for others and his decency that sprung from deep within.  He was younger than me, but still would act as an older brother.  He had a wisdom and also a vision of how he could make the world a better place, but never grandiose visions of curing the world of all its ills — just the part he touched.  He searched for creative yet simple solutions to solve complex and seemingly intractable problems in remote parts of the globe.  Inaction was anathema to Ben.  While others talked, he acted.
Along the way, Ben's Fletcher peers have stepped forward to support, many in a highly active way, his vision.  David's letter mentions classmates who volunteer as trustees, fundraisers, technical advisors, and overall enthusiastic supporters.  The most recent newsletter highlights a Fletcher alum volunteering in Uganda.  Finally, David goes on to say, "ClearWater is the embodiment of the Fletcher ethos, that through compassion, understanding and dialogue, we can make the world that much better.  ClearWater is a piece of us all.  And I hope you will continue to support us, and help forward Ben's legacy."
You can read more about ClearWater's recent work in its 2010 annual report.  General information is, of course, available on ClearWater's website.