In order to effectively implement FWN's mission, the network has created an Executive Committee and four Standing Committees: Communications, Events, Local Groups and Professional Development.  Each committee is composed of two co-chairs and FWN members who volunteered to serve on the committee.
If you are interested in joining one of the committees, please send an email to fletcheralumnae@gmail.com.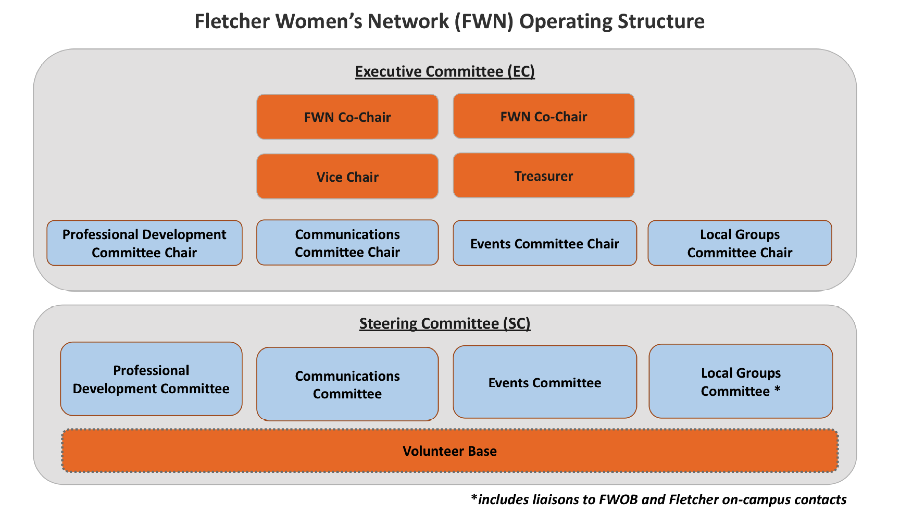 Listed below are the members of each of the four committees who were voted in as part of the recent election process. You can find out more about these committee members here.
Executive Committee 
Co-Chair:Kari Sides Suva F11 (Maine)
Co-Chair: Mariana Stoyancheva F05 (Boston)
Vice-Chair: Tori Okner F14 (Bonn)
Treasurer: Yvonne Durbin F15 (Kigali)
Executive Committee Team Charter
Communications Committee 
Co-Chair: Mollie Pepper F13 (Seattle)
Co-Chair: Ana Garcia F13 (Sudan)
Joy-Dee Davis Lake F05 (Washington DC) 
Sarah Clark F12 (LA)
Domenica Drazel F04 (Dubai)
Communications Committee Charter
Events Committee 
Co-Chair: Abby Fried F15 (DC)
Co-Chair: Rebecca Sholes F90 (MA)
Bouchra Lawrence F03 (DC)
Cyndi Levy F78 (VA)
Stacy Neal F13 (Boston)
Jamila Xible F98 (Boston)
Ahsen Utku F15 (Boston)
Local Groups Committee 
Co-Chair/US-Based: Allyson Hawkins F17 (Boston)
Co-Chair/US-Based: Ashley Doliber F17 (NYC)
Co-Chair/International: Annin Peck F17 (Hong Kong)
Corey Barr F10 (Boston)
Sylvia Conti F82 (Rome)
Yvonne Durbin F15 (Kigali)
Aditi Manocha F16 (DC)
Jessica Meckler F16 (New Delhi)
Tori Okner F14 (Bonn)
Annie Paulson F13 (NYC)
Kim Rhatigan F12 (NYC)
Local Groups Committee Charter
Professional Development Committee
Co-Chair: Judy Dunbar F04 (SF)
Co-Chair: Jennifer Haworth McCandless F97 (DC)
Ria Barber F16 (DC)
Tihana Bule F12 (Paris)
Stephanie Creed F16 (DC)
Claudia Cunha F85 (Sao Paulo)
Janice Dunn Lee F75 (DC)
Amanda Epting F17 (Boston)
Priya Ghandikota F02 (SF)
Illiriana Kacaniku F04 (SF)
Ayesha Khan F17 (NYC )
Marta Mueller Guicciardini F91 (Rome)
Hilary Sienrukos F07 (NYC)
Professional Development Committee Charter