Hello hello !
I'm sure everyone is waiting on the edge of their seat to hear about our big presentation from last week. Well, let me tell you, it is crunch time over here at BitBox – after all the feedback from our peers and advisors, we are moving full into prototyping and testing, the meat of this capstone informed by all of our previous research.
First things first, how'd the presentation go? Well, I think. I mean we started off with this lovely slide from Brian Taintor himself, so you be the judge.
Anyway, a week ago, we delivered our user research presentation, in which we discussed each of our key interviews and research tactics, delved into who exactly were our users, highlighted key insights, and touched on next steps.  We acknowledged that through our research, we realized that our users were not just the students, or even just the teachers, but we had a multitude of players that had to be involved in our design process if we were ever going to be able to achieve any real change. This could be anyone from school administrators, for instance, Tony Monaco, to the state and national legislators that influence education policy. It could also be parents, the hardest group to please when it comes to education. Our complicated user map is shown below. Kind of a mess, but what can ya do?
We then summarized these findings into a detailed report, which we submitted a few nights ago for review. Here are 7 key insights that we synthesized from our ethnographic research:
Create an environment in which the learner has agency over their education.
Educators need adaptive tools that empower them to approach district, state and federal standards in new ways.
Reimagine the merits of required attendance.
Supervision, not surveillance
The world is malleable – any physical space can be used to foster engaging, collaborative learning.
Educators are constrained by time and money – reduce the need for subject matter expertise and training
Public schools look for sustainable investments.
With these insights, we move forward into creation of our first prototype. We are all set to meet on Saturday, and each team member is to bring an analysis of 5-10 tools that could be included in a mobile space, as well as an initial concept for that that space would look like.
Maybe something like this?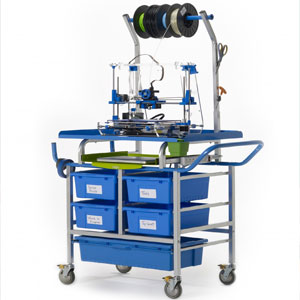 or..like this fancy rendering 0.o
or maybe it'll be like this super basic space that can amalgamate different resources:
Anyway, once we have our first prototype, we will return to our users to begin testing and iteration.
While this post has been short, a lot has happened in the last two weeks, from compiling our research, synthesizing insights to actually drafting a report about each tangible goal. Our next update will hopefully feature some mocks and some usability testing from the field.
Thanks for reading <3