Posts Tagged Alumni
Members of Tufts Mountain Club participated in the Jumbo Stampede 5K during Homecoming weekend while wearing full climbing gear. They came with a plea for President Lawrence S. Bacow, who is leaving Tufts next summer: "Don't Leave Me, Larry!"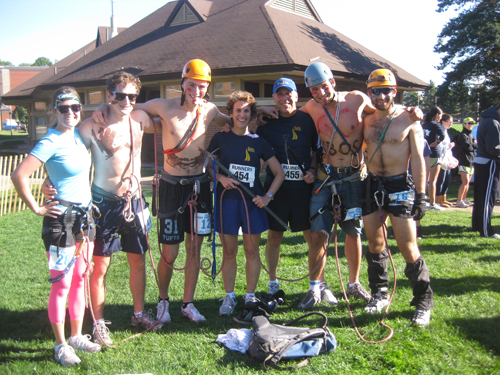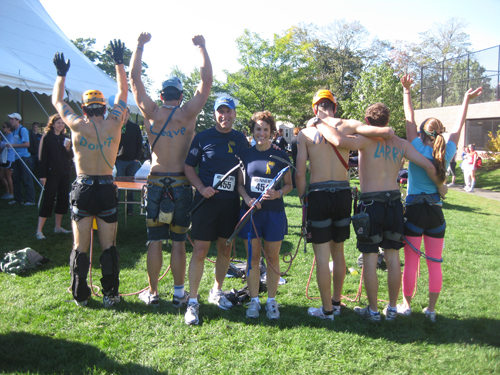 Two alumnae of Tufts' Friedman School of Nutrition Science and Policy, Willow Jarosh (N'06) and Stephanie Clarke (N'06) of C&J Nutrition, will be guest blogging about nutrition for fashion designer and former reality TV star Whitney Port from The City and The Hills, each Tuesday for the next 7 weeks. They've already published their first post.
The Tufts alumnae are targeting primarily college-aged readers with suggestions on quick and inexpensive meals, tips for staying healthy while you're busy, and advice on alcohol and nutrition, among other topics.
Both Jarosh and Clarke have also accepted positions as contributing editors for SELF magazine. Their monthly column will debut in its November issue, which is available in mid-October. In addition to their column, they'll be writing other nutrition tips and articles in the magazine.
On top of all this, they also tweet everything they eat! Today for lunch, Jarosh had "brown rice bread toasted w avocado, zucchini, red pepper, tofu, tomato." Mmmm.
Tufts has produced many film stars, including Hank Azaria, Oliver Platt and William Hurt. Ben Samuels (A'09) and Nick Jandl (A'07) might be the next two names to be added to that list with the anticipated release of their independent horror film "Asylum."
The film, which finished production in May, focuses on a group of friends that visit a defunct asylum. Things don't go as planned, and the friends are the ones who must pay the price.
Asylum Teaser from Ben Samuels on Vimeo.
Samuels and Jandl started Background Productions while at Tufts and have moved on to bigger roles in addition to this film. Samuels can be seen in "21," "The Happening" and "Wall Street: Money Never Sleeps," and we previously blogged about his independent film, "A Year and a Day." Jandl has starred on "NCIS: Los Angeles" and will play the role of Ryan Reynolds' brother, Jim Jordan, in the upcoming "Green Lantern" movie.
Samuels and Jandl are using a method similar to how the producers of "Paranormal Activity" promoted their film; the more people that request to see it, the more information they will give before announcing an official release date. Visit the "Asylum" page on Facebook; when it has 1000 "likes" a full trailer will be released.