Inclusive Justice: Human Security as an Integral Element of Global Justice, 2013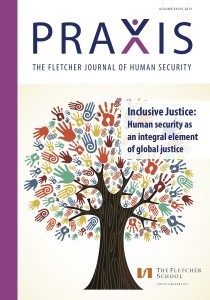 In its twenty-eighth edition, PRAXIS focuses on different facets of inclusive global justice, with authors investigating human-centric mechanisms of transitional justice, peace processes, and international development. Articles include Tools of Change: Long-Term Inclusion in Peace Processes, Toward a Child Oriented Approach to Reparations, The International Criminal Court as a Human Security Agent, and Well-Being Economics and Buen Vivir: Development Alternatives for Inclusive Human Security.
New Approaches to International Development, 2012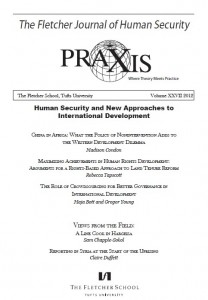 In its twenty-seventh edition, PRAXIS focuses on New Approaches to International Development by providing a timely compilation of articles that review the implications of these new trends on individuals and provide prescriptions for the way forward. Articles include China in Africa: What the Policy of Nonintervention Adds to the Western Development Dilemma, Arguments for a Rights-based Approach to Land Tenure Reform, and The Role of Crowdsourcing for Better Governance in International Development. 
To access all previous PRAXIS publications please visit the archives on our official website.