About the SIS Project
Over a three year period, from June 2011 through the summer of 2014, the SIS Project will orchestrate an unprecedented, cross-school/UIT collaboration to implement iSIS, our new Integrated Student Information System.  Today, those of us working on the Project are mired in details; we have reviewed and documented over 140 business processes, designed functional work flows and developed technical requirements to codify how students enroll in courses, how faculty post grades, how we report on our collective progress, and more.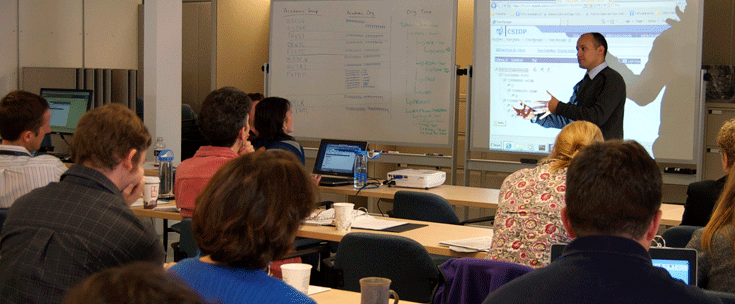 The SIS Project represents something much bigger

Student systems facilitate student services across campuses and enable Tufts to provide the best customer service to its students and faculty.  Because of limitations of the legacy ("old") SIS, our student services staff has not had modern tools to enable the kind of flexible, customized, and personal support that we like to provide.

Student information systems support academic innovation and academic policy changes, and enable cross-disciplinary programs.   A flexible SIS makes dual-degree programs or University-wide initiatives, like the University Seminar, easier to administer, schedule, grade, and credit.

By implementing a modern, flexible system, we are setting the stage for functional and technical innovations in the coming years.  The new technology will be scalable, cost effective, and modestly customized so that we may provide support that is consistent with the academic excellence that characterizes Tufts.
Guiding Themes
We are focused on the needs of faculty and students
We are eliminating redundant systems
We are a partnership between school leadership, UIT and central administration
We are open to creative solutions and to unprecedented ideas; e.g. co-location
We are setting the foundation for the next generation of Tufts information infrastructure
We will support our faculty, students and staff through this transition by providing online help & ongoing training opportunities, on all three campuses
Our Inspiration
Tufts students will benefit from a student information system that provides secure access to timely, accurate and useful information.