Frequently Asked Questions
Support
Where do I go for Help?
For support, contact your Registrar's office:
Online Resources and Training Opportunities include:
Access
What are the basic requirements to access iSIS?
For access to iSIS, you will need to log in with your Tufts Username and Password, from a personal computer or tablet.  iSIS has been tested on Macs and Windows platforms, on all modern web browsers. Your 991 number will not work.
How do I log into iSIS?
Go to:  http://go.tufts.edu/isis.
iSIS authenticates students, faculty and staff with their Tufts Username and Password, the same ID you use to access email, library resources and services such as Trunk, TUSK, Elist, Spark wikis and blogs, and the Tufts wireless network.
Students: You will still need your "991" ID number to log into SIS Online or HSF Online only.
Will iSIS work on my mobile device? 
Some functions have been made available via mobile devices, but not all features of iSIS lend themselves to mobile devices.  Therefore, we do not allow you to access the full iSIS breadth of functions from your mobile device.
iSIS is fully functional on desktop, laptop, and tablet devices.
Why does my session time out after 20 minutes?
In order to ensure the privacy of student data, after 20 minutes of inactivity, you will be automatically logged out and asked to reenter your log on credentials.
I'm getting a "page cannot be displayed" error.  What does this mean? 
Different schools within Tufts University may have access to different screens.  You may not have, or need, access to certain screens.  Please contact iSISSupport@tufts.edu and we will review your access with an appropriate school representative to determine if you should indeed have access to that page.
Using iSIS
I can't find what I'm looking for.  Where should I begin?
STUDENTS:
Depending on your school, iSIS supports registration, advising, grades, transcripts, student financials, and more.  The following graphic summarizes what iSIS will include after it becomes Tufts' system of record for student academic and biographical information around August 19, 2013.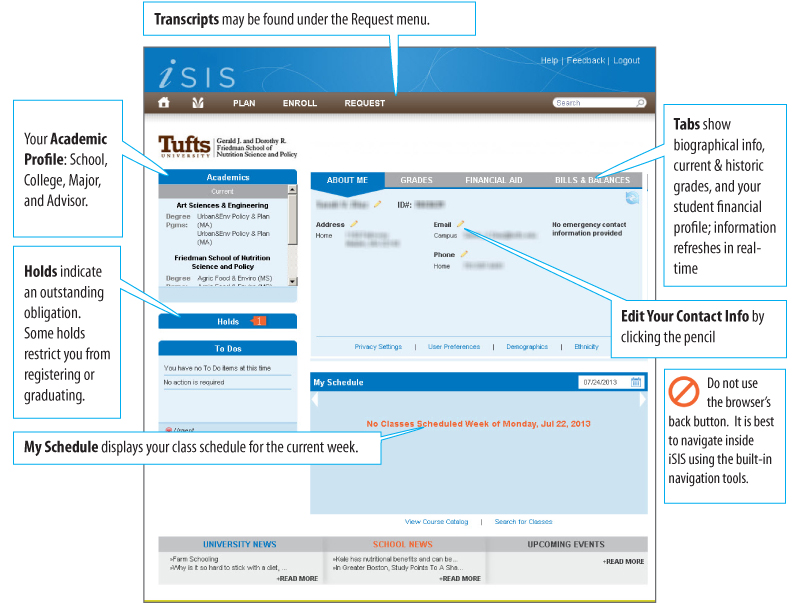 FACULTY/ADVISORS:
iSIS provides faculty and advisors with the tools they need to support students during key events in the student lifecycle, e.g., course registration, advising, and grading.  Your school registrar will guide faculty and advisors at key points of the lifecycle.
Faculty and advisors will have an individualized iSIS homepage and access to a university-wide course catalog and schedule of classes.  Depending on their role and Tufts' affiliation, faculty and advisors may access class and grade rosters, their current class schedule, and a list of their current advisees, including academic information and the ability to approve advisees for registration.
Administrators and Staff whose university role involves the management or input of official student or course data may be iSIS users.  Your school registrar, bursar and financial aid directors can identify administrators and staff who need access to iSIS.  If your role involves the use of official student or course data, e.g., for departmental planning, you may or may not be an iSIS user.
In iSIS, everyone sees the information they need consistent with their role in supporting students and faculty.  Each iSIS user is assigned a role by their registrar, bursar, or financial aid director, which gives them access to the menus, pages, and data they are supposed to see.
My data appears to be wrong.  What can I do about it?
Please email iSISsupport@tufts.edu.
Student information in iSIS was converted from the "old" SIS, parts of which are 25-30 years old.  As a result, there may be some unintentional data anomalies.  Let the iSIS Support team know about this and we can help you sort it out.  Going forward, iSIS has features to help eliminate most data discrepancies.
There is terminology in iSIS that is new to me/ that I'm unfamiliar with. Is there a key or glossary?
Yes, there is a crosswalk that will help faculty, advisors, and administrators.  In addition, the following might be helpful while browsing the iSIS Course Catalog and Schedule of Classes:
| | | |
| --- | --- | --- |
| Careers | → | Roughly equivalent to schools at Tufts |
| Course Attributes | → | Requirements fulfilled by a course |
| Plan | → | Major, Minor or Certificate, e.g., Bachelor of Arts in Art History, or Master of Science in Mechanical Engineering |
| Program | → | A grouping of "Plans" that have similar academic calendars, billing rates, and load/level rules, e.g., Arts and Sciences Degree Seeking Undergrad or Dental Fellowship Students |
| Units | → | Credits |
The term "shopping cart" sends the wrong message.  Can we change this to something less commercial?
Many faculty and staff have that initial reaction, and we made a brief effort to get Oracle/PeopleSoft to change it, as have a number of other universities which use the same software.  Not only would it be an expensive change for Tufts both upfront and at each upgrade, but many experienced consultants rightfully point out that the "shopping cart" concept is one very familiar to today's students as a simple assemblage of items they have chosen and want to save to consider, rather than a commitment to buy.  In the end, we decided to spend limited project resources on other higher priorities.
Does "Jumbo's Path" exist?
Yes.  Jumbo's Path is on the Grafton Campus.
To submit a question for the iSIS FAQ, email iSISsupport@tufts.edu.