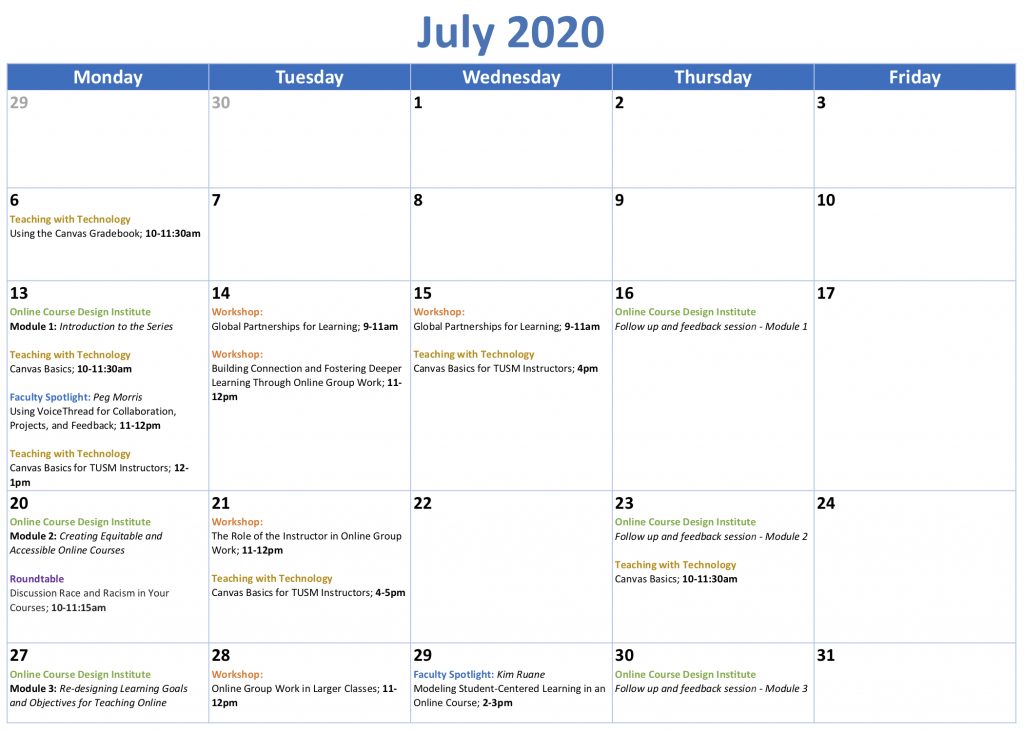 Canvas Course Design Tutorial for Online Teaching
This Canvas course will introduce you to ideas and skills for adapting an existing traditional face-to-face course into an inclusive, student-centered online course. This asynchronous and unmoderated course is designed to model design features and tools you may wish to include in your own course. It will also provide you with the opportunity to experience the perspective of being a student in an online course. Anyone at Tufts can view the course within Canvas and enroll themselves.
July Course Design Institute for Online Teaching – register now
Join us for the second iteration of this popular course. Registration is required. Using a Canvas course site that models effective practice in Canvas and in online teaching, we will help you to create resources for remote / online teaching. Participants meet twice a week, and do work in between sessions to develop certain aspects of their course. See this flyer for more details. Registration Deadline: July 9, 2020
We will meet over Zoom on the following dates, 2:00-3:15pm: July 13, 16, 20, 23, 27, 30 August, 3, 6, 10,13
Register or let us know if you'd like online course design support but aren't able to participate here https://tufts.qualtrics.com/jfe/form/SV_25dn5e3h19zKP77
---
Roundtable: Discussing Race and Racism in Your Courses
Join this roundtable to discuss how to facilitate a conversation with your students around race and racism.
Monday, July 20, 10:00-11:15 (Zoom Meeting Link – https://tufts.zoom.us/j/7458197417 )
---
Faculty Spotlight Series
Peg Morris (Occupational Therapy) Using VoiceThread for Collaboration, Projects, and Feedback, Monday, July 13th (Zoom Link – https://tufts.zoom.us/j/97318412497 )

Description: In this session, Peg Morris, Senior Lecturer in the Department of Occupational Therapy, will share ways she has used VoiceThread technology to promote engagement and collaboration among students in her class. Participants will have the opportunity to experience VoiceThread and consider how it might work in their course.

*In order to experience VoiceThread in this workshop, please register and sign-up for a free account. This can be done quickly by providing your name, email, and password.

Kim Ruane (Mathematics) Modeling Student-Centered Learning in an Online Course, Wednesday, July 29th 2:00 – 3:00 (Zoom Link – https://tufts.zoom.us/j/99013204066 )

Description: In this session, Kim Ruane, Professor and Chair in the Department of Mathematics, will model the way she uses small groups to guide student learning in her mid-sized online, introductory course. She will also discuss her use of written and oral examinations. Through these practices, she has found student engagement has increased and she has been able to gain a better sense of student learning.
---
---
Global Integrated Learning and Design (GILD) – a new initiative
Come hear faculty panelists talk about creative ways they have integrated global learning into their courses, learn about GILD, and consider how you might incorporate global aspects into your course! Rana Abdul-Aziz, Int'l., Lit. and Cultural Studies; David Gute, Civil and Environmental Engineering; Ayesha Jalal, Mary Richardson, History
Tuesday, July 14, 9 – 10am (Zoom link – https://tufts.zoom.us/j/94495814024)
---
Teaching with Technology
Educational Technology Services is holding online training sessions and virtual drop-ins to help you learn about Canvas and other online teaching tools. See the Canvas@Tufts Training Calendar to register for upcoming sessions.
---
Sign up for a Faculty Learning Community
A Faculty Learning Community typically forms around an area of common interest or challenge, and the agenda is shaped by the goals or needs of its members. The participants will meet regularly on zoom for perhaps an hour a week, for a period of time that the group determines (anywhere from 3 meetings to an ongoing group.) The group may invite guest presenters, share their own experiences and problem-solve together, and share resources. Some preparatory work will be necessary between meetings – a short reading, or video, for example, so that we understand evidence already available on effective practices. Beginning in July we are happy to help convene these groups. We have several topics that have been suggested. We also welcome other ideas for faculty learning communities you are interested in forming. By completing this short form, please let us know which group(s) you would want to join If there is enough interest, we will make it happen.
---
Stay tuned – more sessions coming soon!