Despite going 2-5, Stanford Invite proved to be an exciting and wonderful weekend for the Ewo. We left the cold, grimy snow in Boston and were greeted by 75 degree weather and cloudless skies all weekend long (and no wind! Can you believe it, Gantcher actually trained us well!) Seeded last in the tournament, the Ewo rolled in with nothing to lose and used it to our advantage.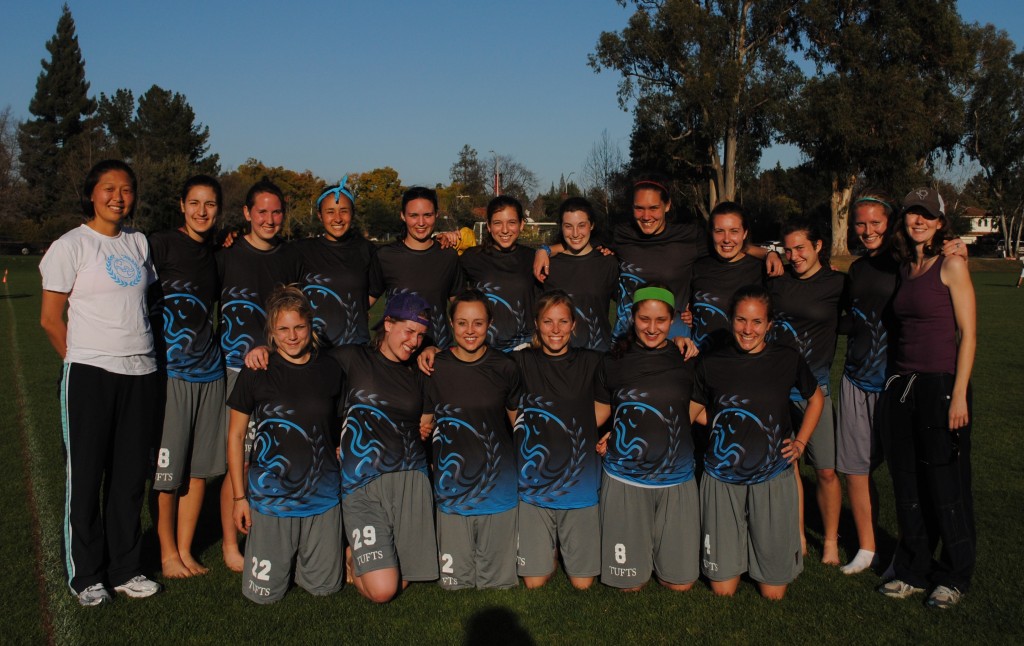 After a first round bye, the Ewo started off strong against 3rd seed Washington (weekend Champions) Saturday morning. After Washington took half 7-4, the Ewo dug deep to bring the game to 7′s, but it wasn't enough and Washington won 13-9. Next up was Pittsburg, seeded above us. After coming off the Washington game we were fired up and drilled Pitt in to the ground, winning 13-8. Final game of Saturday was UCLA, an athletic and deep team. Ewo kept up the intensity and went up 3-1 at the beginning of the game, but UCLA ended up taking half 7-5 after a couple long points. Ewo fought hard for this game, but couldn't stick it, losing 13-10 to UCLA.
Sunday morning the 'Wo rose at 5:45am for an early 8am game against Carleton. After beating them last year at Centex first thing on Sunday, we were ready for a repeat. The first half consisted of long points with a sick layout D from Claudia Tajima ('13), and sly endzone hucks from Hailey Alm ('13) and Emily Shields ('14). Carleton took half 7-5, and then went up 8-5 on the Ewo. Losing was not an option for the 'Wo in this game, and we came back to tie them at 9′s after a deep throw huck from Eliza Earle ('12) to Shields, and a crazy Hammer – dump – Hammer – to score between Claudia and Margot Lieblich ('13). It was a tough game, and after softcap the Ewo ground out an 11-9 win over Carleton.
Up next were 2011 National Champions UCSB, seeded 2nd overall. The 'Wo were pumped and fired up after the sweet victory against Carleton and wasted no time with the Burning Skirts. After trading points, the Ewo took half 7-6. UCSB came out strong for the second half and went on a 4 point run, later closing with a win of 13-9. Highlights included a sick layout grab from Alex Earle ('14), more hucks from Hailey, Claudia, and Michaela Fallon ('14), and a sweet poachers D by Rachel Rhodes ('12).
Last pool play game was against Stanford and the Ewo entered the game just as pumped as the first two. By way of some bad decision making and a hard zone defense from Stanford, the Ewo dug themselves in to a hole during the first half, allowing Stanford to get ahead 7-4. We came out strong in the second half with hard cuts from Shields and Lily Berger ('14) and a hammer by Michaela, bringing us up to trail Stanford 12-11. The Ewo made Stanford work hard for their final point, final score: 13-11.
Stanford ended our pool play, and Ewo broke seed to play UBC in bracket play for 9th place. After two days of running hard and giving each game our all, the ewo were tired and it showed. UBC was fast with the disc and kept breaking the Ewo's tired mark. Final score: 15-4. Tufts takes 10th at Stanford Invite.
The Ewo have returned to the east coast with sunburns and excitement for the season. Stanford Invite was our first tournament and showed that we can and will compete with the top teams in the country this year. There's a long road ahead of us — more fitness, agility, and skill to be worked on — but the 'Wo are confident in their team this year and hope to bring some attention to our ever growing program. All the thanks in the world to Salty Jess Madding for hosting all 18 of us.