The Ewo made the long drive down to Statesboro, GA last weekend to start their spring break off at College Southerns. With low competition and a high seeding, Tufts had their eyes on the $500 cash prize. Southerns also proved to be an excellent tournament to give everyone on the team a great deal of playing time. Sidenote: Three of our players (Michaela Fallon, Olivia Rowse, and Mia Greenwald) could not be there, so the Ewo were sporting a small squad of 15 girls, including two injured players.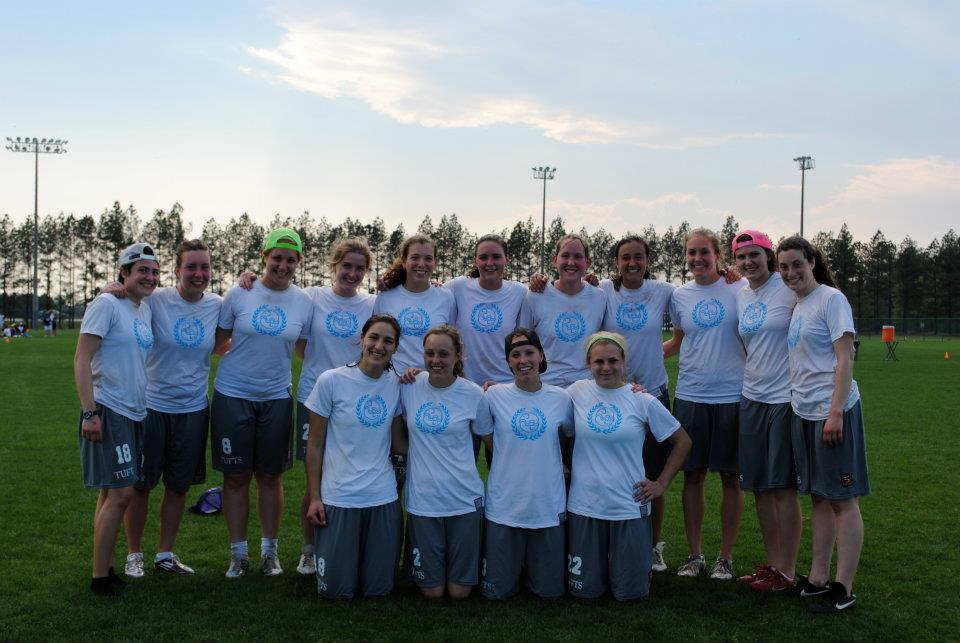 Tufts took off on day one and crushed Cincinnati, Virginia Tech, Florida-B, and Notre Dame, giving up no more than 3 points per game. The Ewo started off Sunday with one more game of pool play against Florida State-B that ended quickly.
Cornell was up next for our first game of bracket play. The Ewo were unsure of Cornell's strength this year and came out hard once again, winning 13-3 – a surprising victory considering Cornell's reputation over the past couple years. Next up, familiar rival Dartmouth in the Semi's. The Ewo were pumped coming off their game against the Roses and were excited to face off Princess Layout before they undoubtedly played them again at Regionals. Dartmouth played some strong points, but ultimately they couldn't keep up with the Ewo's killer defense and speedy deep field cuts, giving the 'wo a 13-5 victory and advancement to the Finals.
The Ewo faced off against number one seed, Ohio State, in the Finals. Ohio had been crushing teams all weekend just like the Ewo and it was finally time for both teams to see some real competition. The Ewo came out strong with great defense by Hannah Garfield ('14) and Claudia Tajima ('13), immediately taking a 3-0 lead. Ohio came back with a couple strong offensive points, but it wasn't enough and the Ewo took half 7-3 after some great plays by Emily Shields ('14) and Qxhna Titcomb ('15). After half the Ewo kept it up and played just as hard, finishing the game with a great throw across the endzone from Claudia Tajima to Eliza Earle ('12). Final score, 13-5.
After lots of cheering, the Ewo received their Champion shorts courtesy of Five Ultimate, as well their $500 cash prize. Although the 'wo were pleased with their performance, they knew there was still a lot of work to be done in order to compete with real competition. After that, the 'wo hopped in the cars and drove to Myrtle Beach, SC where they would practice and bond for the next week in preparation for the rest of their season.