In an announcement sure to vindicate Mass****s, the American Council for an Energy-Efficient Economy has announced that Massachusetts has replaced California as the top energy efficiency state in America.
The rankings were evaluated based on an array of metrics concerning best practices and leadership in energy efficiency policy and program implementation in the residential, commercial, industrial, and transportation sectors, according to the press release.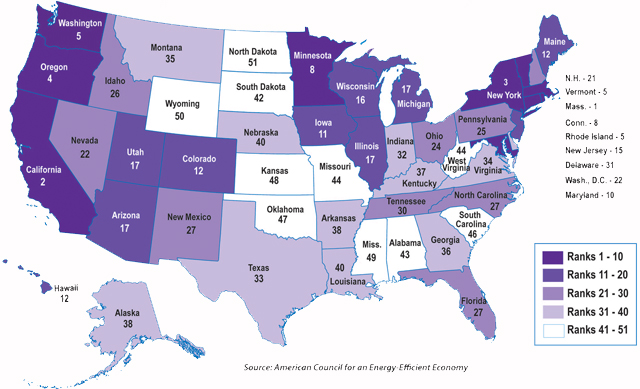 "Energy efficiency is America's abundant, untapped energy resource and the states continue to press forward to reap its economic and environmental benefits," said ACEEE Executive Director Steven Nadel, according to a press release from the council. "The message here is that energy efficiency is a pragmatic, bipartisan solution that political leaders from both sides of the aisle can support. As they have over the past decades, states continue to provide the leadership needed to forge an energy-efficient economy, which reduces energy costs, spurs job growth, and benefits the environment."
Of the five times the rankings have been published, this is Massachusetts' first time on top.
"Thanks to our investments in innovation and infrastructure, Massachusetts is now leading the nation in energy efficiency," said Massachusetts Governor Deval Patrick, according to the press release. "Through our Green Communities Act, we set aggressive goals and laid the foundation for greater investment in energy efficiency — and now we are proud to be a model for the nation and world."