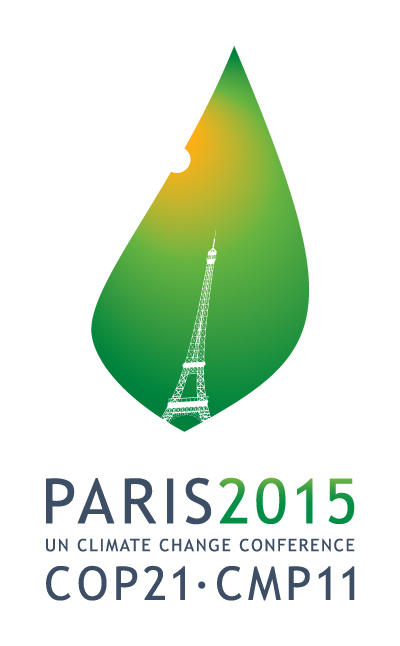 Between November 30th and December 11th, 2015, world leaders and representatives from over 190 countries will gather in Paris for the 21st Conference of the Parties (COP) to the United Nations Framework Convention on Climate Change (UNFCCC). A key goal of the conference is to reach a universal climate agreement to keep global temperature rise below 2°C in an effort to avoid the most dire impacts of a changing climate. The Intergovernmental Panel on Climate Change (IPCC) projects that if no action is taken and we continue on our present course, the earth is on track to see a global average temperature rise of at least 4°C (more than 7°F) by the end of the century.
President of the French Republic, François Hollande, explained that despite the attacks that occurred on November 13th, the conference will go on as planned: "We must continue – continue working, going out, living our lives, influencing the world: this is why the international climate conference will not only go ahead, but will bring hope and solidarity."
This video from Grist provides a basic overview of the upcoming negotiations in under 5 minutes.
Background Information:
Official Site of COP21 in Paris: Provides a variety of resources not only for following along with the conference but also for understanding climate change.
Paris Knowledge Bridge: 4 expert videos on different aspects of the negotiations including history, science and economics, pillars of climate governance, and negotiating itself.
Timeline of COP21 from 1992 to present: A brief overview of the COP decisions.
Resources to Use During the Negotiations:
Live Broadcasts
Follow COP21 Day by Day: Draft texts and live streams will be available on the official website during the negotiations.
Check live news on Twitter or join the discussion with the hashtags: #COP21, #GCFund, #INDC, #Action2015
You can also watch live coverage of COP21 on Periscope. People will be tweeting links to their Periscope broadcasts, so simply search for #Periscope and #COP21 together on Twitter. Another alternative is to search for "COP21" on the Periscope app.
Email Updates
Climate Action Network (CAN) Eco-Newsletters: ECO is a daily insider's look at what is happening in the negotiations. ECO is published every day of the negotiations and has been done so since the Stockholm Environment Conference in 1972.
Tree Alerts Climate News Bulletin: With desks in Europe, Latin America, the United States, Canada, China, and Australia, The Tree is a global resource for information on climate change and the ongoing transition to renewable energy.
Earth Negotiations Bulletin (ENB) Email Listserv from IISD: These email blasts will be released daily during the negotiations and will provide impartial coverage of the negotiations.
News Resources
Adopt A Negotiator: Representing 13 countries and 9 different languages, Adopt A Negotiator's mission is to change the way citizens from around the world engage in shaping climate change solutions at a global level.
Climate Home: Climate change news, analysis, commentary, video, and podcasts focused on developments in global climate politics.
Climate Change TV: Provides videos featuring top negotiators.
OneWorld: Founded in 1995, OneWorld is an international NGO with a mission to innovate internet and mobile phone applications that the world's poorest people can use to improve their life chances and that help people everywhere understand and act on global problems.
Climate and Development Knowledge Network: The Climate and Development Knowledge Network supports decision-makers in designing and delivering climate compatible development.
UNFCCC Newsroom: Website featuring climate change and stories about the groundswell of climate action by governments, companies, cities, the UN, and civil society around the world.
Would you like to share other resources that are not included on this list? Send us an email at sustainabilityoffice[at]tufts.edu.