A message from Students for a Just and Stable Future: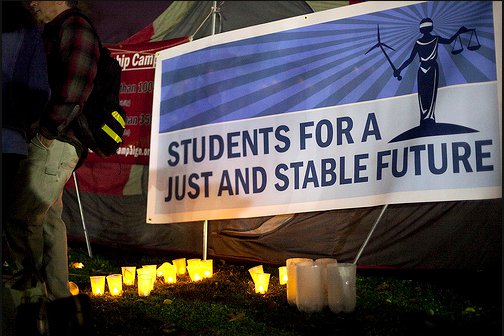 "This is it. The time to break the silence on climate in the Massachusetts senatorial election is now.
As Bill McKibben, James Hansen, and many other respected climate scientists and leaders have made clear, time is running out to take action and preserve a livable climate.
Climate change is the biggest threat ever faced by human beings — yet candidates and the media barely address this indisputable fact on the campaign trail. Politicians and the mainstream media are skirting the issue of climate change — or fail to mention it at all — even as the climate crisis threatens to spin out of control.
From October 23rd through the 30th, at Government Center in Boston, Massachusetts residents will participate in a round-the-clock Vigil to End Climate Silence and call for building a just and livable future for all.  Rallies, with keynote speakers, will be held at strategic times to bring as many of your voices as possible to this call to action. Click here to take part in this vigil.
Our ask is that Elizabeth Warren and Scott Brown speak up about the issue of climate change between now and the election — particularly at the October 30th debate — even if the debate moderator or other journalists do not ask them about climate change.  We want them to acknowledge that the climate crisis is the biggest issue of our time and that they will make it a top policy priority if elected, starting with voting to repeal the billions of dollars in federal subsidies and giveaways to the fossil fuel industry — the very industry that is destroying our climate and our future.
We've learned that we can't merely vote and then wait for politicians to lead us.  From the civil rights to the suffragette movements, we have seen that we must lead them.  What better place to take this stand than in Massachusetts, where the current U.S. Senate campaign is in the national spotlight.
Can you commit to attending a shift for this vigil? Sign up here.
Massachusetts is in the national spotlight.
It's time for us to put the climate crisis — and politicians and the media's silence on climate change — in the spotlight too."
For more information, contact Anna Lello-Smith at Anna.Lello_Smith@tufts.edu or visit justandstable.org.