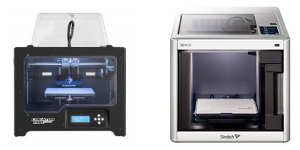 3 Flashforge Creator Pros
1 Sindoh 3DWOX201
About the Tool: Additive manufacturing. Prints a 3D part layer by layer.
Location: Mechatronics Lab (Room 111)
Access: 3D Printer training required. No prerequisites.
The Bray Lab 3D printers are meant for educational purposes such as classwork, club, or personal use. These machines may not be used for downloading and printing objects off the internet.
File types: .stl
Materials:
Creator Pro (dual extrudes): White PLA and Black TPU
Sindoh (single extruder): White PLA
For information on the properties of these materials visit MatterHackers 3D Printing Filament Comparison webpage.
Build size:
Creator Pro: 225mm x 150 mm x 145 mm (8.8 in x 5.9 in x 5.7 in)
Sindoh: 200 x 200 x 189mm (7.9in x 7.9 in x 7.4in)
Layer thickness:
Creator Pro: 0.3 mm
Sindoh: 0.05 ~ 0.4 mm
XY Accuracy: unknown
---
Tips
Please visit the Design Programs webpage for design program recommendation.
Please visit the Dual Extrusion webpage to learn how to print with the white PLA and black TPU in the same project.
---
Setup Flashforge Creator Pro
Add File to Makerbot Desktop software

Select File -> Open or select the Add File button to import a design.

Check that your object fits within the print bed.
Add helper disks if the print is wide or long to prevent the print from curling on the corners. File -> Examples -> Helper-Disks. These can later be cut off with a utility knife. Place the helper disks at each corner of the print.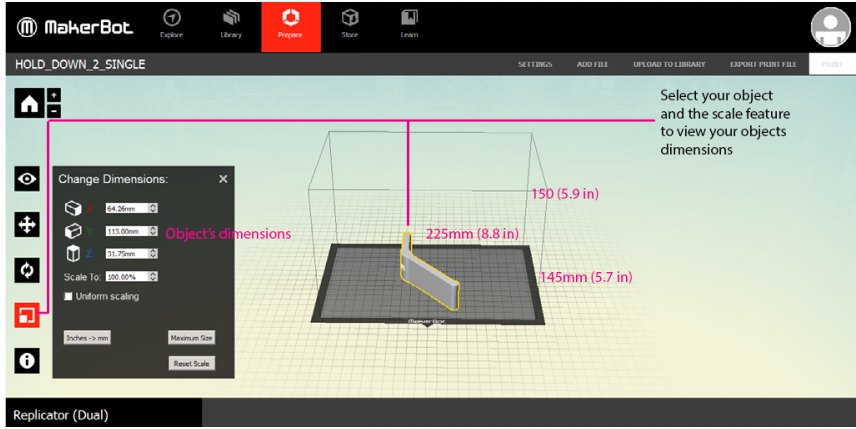 Select the object then choose to print it with the left or right extruder in Object Information. Make sure that there is enough material remaining for print by looking at the spool behind the printer that corresponds to the selected extruder.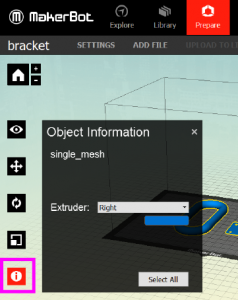 Select your print quality in Settings. The only difference between the settings is the fill density, and therefore how long the print will take to complete, and how strong it is.

Low, fill=10%
Standard, fill=20%
High, fill=30%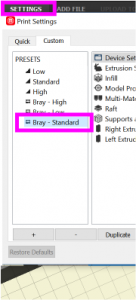 Safe Operation
Select Preview to receive a time estimate of your print.
Select Print

The machine will take a few minutes to heat up before it will begin printing.

Watch the machine for at least the first 30 minutes of the print to ensure the printed material adheres to the bed and the object is printing correctly.
Cleanup
Remove your 3D print and all plastic debris from the 3D printer
Throw excess material in the trash.
Sindoh Software Guide