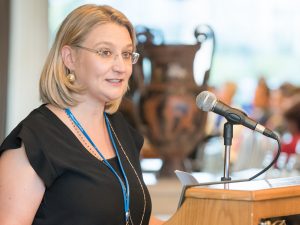 Ioli Christopoulou (2001) is the policy director of the Green Tank, a non-profit think tank aimed at promoting policy solutions for a sustainable future, which she co-founded in 2018.
Throughout her academic and professional career, Ioli has focused on issues of sustainability and environmental law, policy and governance, studying and partaking in the constantly evolving global, European and national environmental politics.
Ioli received a B.A. in International Relations from Mount Holyoke College (summa cum laude and Phi Beta Kappa), and then both a M.A.L.D. and Ph.D. from the Fletcher School of Law and Diplomacy at Tufts University focusing on public international law, international organizations and environmental policy. The tile of her dissertation is "Creating a Sustainable Europe: The Role of the European Union Structural Funds".
While a student she concluded volunteer and internship work, at WWF Greece, Biopolitics International Organization, the Society for the Protection of Prespa, in Athens, and the WWF European Policy Office in Brussels. From 2005 to 2018, she worked at WWF Greece, initially as a policy researcher and then for a decade as the nature policy officer.
She has been appointed to represent 12 NGOs in the national Nature Committee in Greece, which reports to the Minster of Environment and Energy, and currently serves as its alternate chair.
Ioli also has been teaching on environmental policy at the College Year in Athens since 2008, a program that hosts semester/year abroad students to Greece.
She has served as a member of the Board of "MEDASSET – The Mediterranean Association to Save the Sea Turtle" and is the coordinator of the Mount Holyoke Alumnae Group of Greece and the delegate of Greece to the Mount Holyoke European Alumnae Council. Learn more here.