MOU signed with the Ethiopian Ministry of Forests, Environment, and Climate Change
On October 2, CIERP signed an MOU with the Ethiopian Minister of Forests, Environment, and Climate Change, Dr. Gemedo Dalle Tussie, for collaboration on climate policy and training of Least Developed Countries (LDCs). Dr. Steven Block, Academic Dean, Professor of International Economics, and Director of the Program on International Development, signed the MOU on behalf of The Fletcher School.
Minister Dr. Gemedo Dalle Tussie also took the opportunity to speak with Fletcher students over lunch.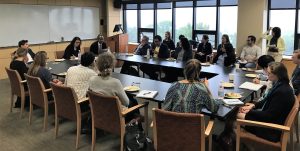 There are six areas of collaboration in the MOU:
provide training on multilateral environmental diplomacy to the Climate Vulnerable Forum and developing countries more generally in both international negotiation and domestic climate policy design and implementation;
review and evaluate existing climate and environmental policies and laws;
develop and use methods to measure progress on implementation of climate-related goals;
identify medium and long-term strategies for creating synergies among mitigation, adaptation, resilience, disaster risk-reduction, and development;
align and integrate climate policy and sustainable development goals; and
organize South-South workshops to facilitate an exchange of climate policy best practices.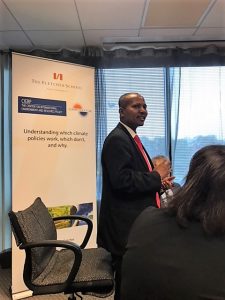 We view Ethiopia as a strategic country engagement, and one that can help us reach the wider LDC group of countries.  Ethiopia is a forerunner in Africa with its Climate Resilient Green Economy Strategy, its relatively progressive NDC, and its determination to find a green growth economic model.  Together with the Ministry, we will focus on measurement of impact, with first steps being the development of metrics to measure climate policy and green growth performance.
Woods Hole Research Center and Addis Ababa University will be implementing partners.