2022 – 2023
Feb
24
Fri
"Aftershock" Watch Party & Panel

@ In-person
Feb 24 @ 6:00 pm – 8:00 pm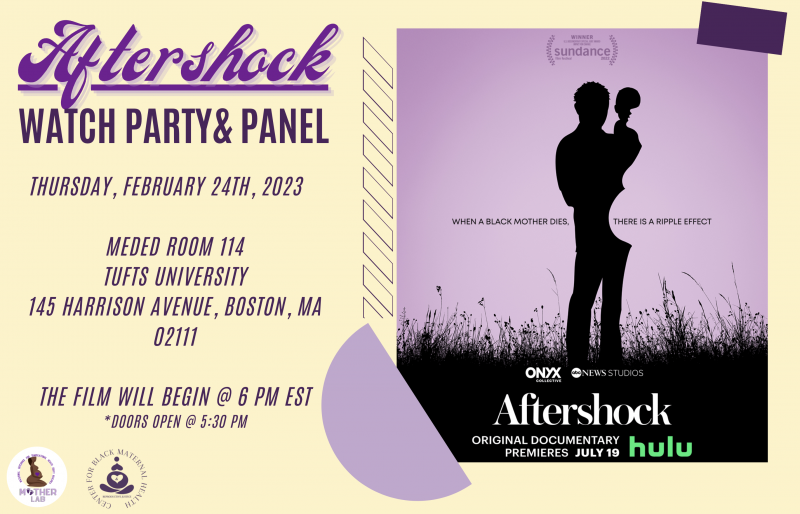 Tufts' Mother Lab in partnership with Tufts Center for Black Maternal Health & Reproductive Justice will screen "Aftershock," which spotlights the long-lasting effects of the US maternal health crisis.
Following the film, there will be a panel discussion featuring:
Ndidiamaka Amutah-Onukagha, MPHD, PhD, Julia A. Okoro Professor of Black Maternal Health in the Department of Public Health and Community Medicine at Tufts University School of Medicine
Neel Shah MD, MPP, FACOG, Chief Medical Officer of Maven Clinic
Stefanie D. Belnavis, BC-DMT, LMHC, differently abled Jamaican-American visual storyteller, kinesthetic creative, photographer, and therapist based in Boston
Ketura'h Edwards-Robinson, MSN, SANE-MA, WHNP-BC, AGNP-C, Nurse Practitioner, Childbirth Educator and Doula
Mar
16
Thu
E.P.I.C. Ableism Training

@ Zoom
Mar 16 @ 3:00 pm – 4:30 pm
Jeff Lafata-Hernandez founded Empowering People for Inclusive Communities (EPIC) in March of 2011, to address the growing need for transition aged youth with disabilities to develop their leadership skills, and to become more active in their communities.
Jeff has devoted his career to working within the Disability Community in varied settings: classrooms, community organizations, residential programs and vocational environments. His work includes time at Perkins School for the Blind, North Suffolk Mental Health Association, Partners for Youth with Disabilities, and countless hours of volunteer service at numerous organizations.
Jeff's favorite quote: "Our lives begin to end the day we become silent about things that matter" – Martin Luther King Jr