2022 – 2023
Apr
19
Wed
DEAR Council's final Race & Racism Speaker Series: "This Ain't Normal" Film Screening & Panel

@ Posner Auditorium
Apr 19 @ 2:00 pm – 3:30 pm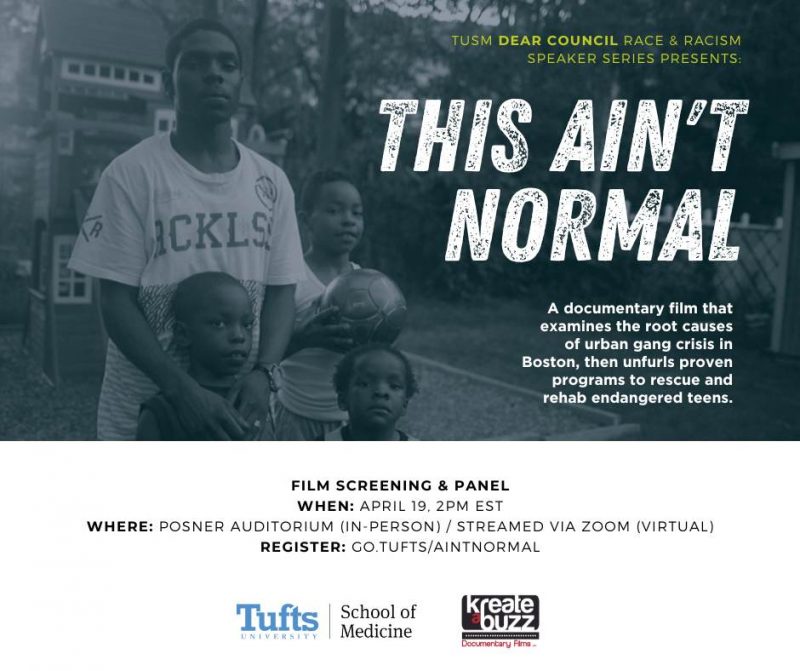 DEAR Council's final Race & Racism Speaker Series event of the semester: "This Ain't Normal" Film Screening & Panel
When: April 19, 2:30-3:30pm EST
Where: In-person at Posner Auditorium (virtual option also available)
Registration: go.tufts.edu/aintnormal
Students are invited to watch a screening of "This Ain't Normal" followed by a panel with the film directors and writers.
Synopsis: 
This Ain't Normal is an Emmy nominated and award-winning documentary film that lasers in on this national crisis of gangs in major cities, introducing five young men, each with wrenching histories, and a proven Boston intervention model to help these endangered youngsters exit gangs. With the street cred to win their young proteges' trust, they redirect these youths to education, job training, and counseling. The take-away? As disastrous as gang violence is across U.S. cities, This Ain't Normal unveils a workable solution, one that can lower the toll of jail terms, gun violence, high homicides rates and help inner-city youth survive and thrive. Given the intensity of anguish and redemption here, the Boston Globe called This Ain't Normal "raw and potent." The GRIO said it "journeys the transformation of young gang members," and renowned Pulitzer-nominated Harvard University psychologist Steven Pinker called it "gripping, heart-breaking, inspiring."
Note: a virtual option is also available. The Zoom meeting information will be emailed to you after registration.