Review by Abrina LaRose
Image: Wangari Maathai: The Woman Who Planted Millions of Trees Written by Franck Prévot, illustrated by Aurélia Fronty
You have to be an inspirational person to have five children's books written about you – all five told differently but embodying the same story of a resilient African soul and hero, Wangari Maathai. Maathai is famous for her work planting trees and starting the Green Movement which began as a way of helping poor rural Kenyan women dependent on the wood and water that forests provide. The movement developed into a world-wide movement not only for the environment but also for women's rights and democracy. For her monumental work, Maathai was awarded the Nobel Peace prize, the first ever given to an environmentalist and the first ever given to an African woman.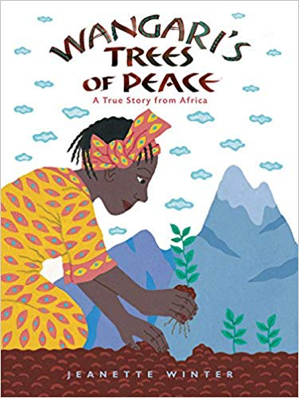 As for the books themselves, when opened, each book becomes a double page spread of elaborately detailed illustrations. On every page, the colors jump out and excite with an array of rich purples, oranges, pastel blues, pinks, shocking yellows, and greens. Readers discover how the colors and illustrations embody and give life to the inspiring story of Wangari Maathai.
But it's not just the colors and beautiful illustrations that make these books special. The books are special also for their introducing readers to what for most is likely to be a very different culture. For example, in "Mama Miti", the Kikuyu expression: "Thayu nyumba—Peace, my people" is repeated after every encounter — giving readers a taste of Kenyan culture.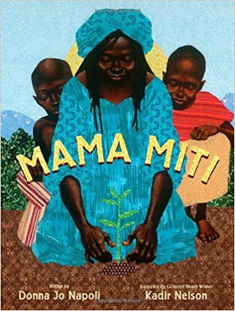 In addition, the books give us a story for today's generation of children, a story that celebrates the strength of a woman who became a citizen of the world. In previous generations, children's books and stories, like Cinderella, featured the ideal woman as 'western' and waiting for the prince who will become the hero. But in the books about Wangari Maathai, it is she, an African woman, who becomes the hero — someone that everyone, not just a few, can identify with and become inspired.