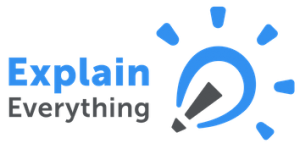 Explain Everything is an easy-to-use interactive whiteboard, screencasting, and screen recording app. With it you can:
Create and show a presentation from an iPad or other tablet – this frees you from the podium – you can walk around as you present
Import media objects like images, videos, slides, and documents directly from Box and other environments
Place media objects to interact with on an infinitely big, zoomable whiteboard
Move objects around and write and sketch as you present
Annotate, narrate, and move and scale things on the whiteboard as you record from an iPad or PC
Create your own animations
Collaborate with others in real time
Share your creations in an online portal as video
It has been described as a "superhero version of PowerPoint"
To get started:
Gear: Explain Everything is a mobile app available on iOS, Chromebook, Android, and Windows mobile devices. Presentations are created on an iPad or other tablet. Once created, presentations can then be recorded and stored as videos which can be viewed on any device (desktop, laptop or mobile).
Cost: $9.99
More Info: Explain Everything
Learn How: Explain Everything User Guide
Get Support: Contact edtech@tufts.edu