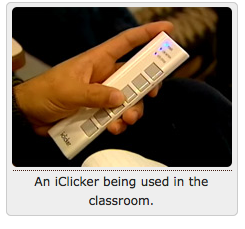 Special Note to faculty: If you and your students don't already own the iClicker hardware, we highly recommend that you use the Poll Everywhere app instead of iClicker, as it is a more robust and versatile tool and is available to Tufts faculty and students at no cost.
_______________
iClicker is a software-plus-hardware system used for in-classroom polling and Q&A sessions. It's produced by the Macmillan company.
iClicker lets an instructor poll students and get live feedback during class. Q&A results can be shared on-screen during a presentation. Responses can also be collected and reviewed later, and can be used to track student attendance and comprehension. Poll results can also be stored and incorporated into the course grade book in Canvas.
The iClicker hardware consists of a "base" which connects to the instructor's computer, and hand-held "remotes", which are devices that the instructor and students can carry with them and use in multiple classes.
Tufts supports a custom version the of iClicker software.
Equipment Requirements: Tufts' customized version of iClicker runs on Windows and Mac. Instructors and students are responsible for purchasing their own iClicker hardware, available at the university bookstore.
More Info: iclicker.com/instructors
Learn How: iClicker User Guide
Get Support: Email edtech@tufts.edu