Key Findings from the ECAR Study of Undergraduate Students and IT, 2011
The Tufts Students Respond 2011 report summarizes the results of the February 2011 survey that Tufts seniors and freshmen completed. A total of 572 Tufts students participated in this survey — 326 seniors and 245 freshmen.
Key Highlights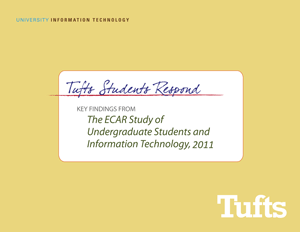 Full-sized laptop computers prevail at Tufts.
Students use study-related technologies frequently and are generally drawn to traditional technologies.
A majority of the students have a positive view of IT use in their courses and prefer a moderate level of IT integration.
A Learning Management System (LMS) was used heavily with over half of the students reporting their positive experiences with it.
About a third of the students use word processors and spreadsheets that are both cloud-based and native applications.
Half of the students do not believe they are provided with adequate training for the IT the instructors use in their courses.
Resources