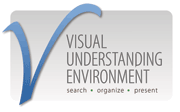 The Visual Understanding Environment (VUE) is a concept and content mapping application, developed to support teaching, learning and research and for anyone who needs to organize, contextualize, and access digital information. Using a simple set of tools and a basic visual grammar consisting of nodes and links, faculty and students can map relationships between concepts, ideas and digital content.

Quick access: http://vue.tufts.edu
Learn more: VUE User Guides
Get support: email edtech@tufts.edu.