I believe the man who said, "All politics is local," grew up just down the road from my house, and my recent campaign for Arlington Town Meeting Member definitely served as a crash course in politics. The process forced me to stretch way out of my comfort zone and acknowledge some universal truths. Here's a list of things to keep in mind when running for office, which also apply to life in general.
Work your strengths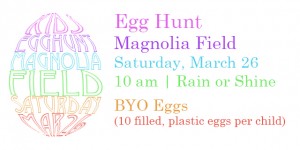 I love planning events, particularly holidays. I inherited this quality from my mother, who elevates menu planning to an art form. So when I saw a call on social media for someone to take over organizing the neighborhood egg hunt, I knew I was just the woman for the job. Knocking on doors to ask for votes felt intimidating, but planning an egg hunt as a way to meet more of my neighbors sounded fun! The egg hunt had a record turnout and helped me get to know some folks in my precinct while showing off my organizing abilities.
Be proud of your story and experiences
I made a postcard to tell my neighbors a little about myself. I debated whether or not to describe myself a "pedestrian and bicyclist," because it's a car's world and a lot of people really seem to hate cyclists. I decided to be honest about my values and it paid off. Someone in my network shared the postcard with acquaintances who were impressed that I identified myself as a bicyclist. What I feared was a liability may have ended up winning me some votes!
Acknowledge and appreciate your support systems
It's no secret that I have some wonderful colleagues here at the ExCollege, and they were a big source of encouragement, including Amy convincing me to run in the first place! Howard and Joe were extremely patient with our frequent Arlington-centered discussions and each of my co-workers gave me valuable advice.
I have to give a big shout out to my husband, who though initially skeptical about my run, delivered postcards to over 130 households in our precinct and stood outside the polling place with me on the cold, rainy morning of the election, while Auntie Lylee babysat. It takes a village!
I was also helped tremendously by some of the other folks running for Town Meeting, who shared my name with their networks and commiserated with me over some of the more stressful aspects of politicking.
Hard work pays off
Town Meeting elections are small. Only 204 people voted in my precinct this election. In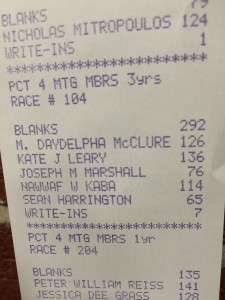 order to get elected, I didn't even have to get the most votes. There were four seats open, so I just had to be one of the top four. Even so, I took it seriously and put in many hours of work. I studied up on the issues, attended meetings, networked, printed and distributed postcards, and stood 150 feet outside the polls on the morning of the election. And I got 61% of the vote, coming in second for my precinct!
Not everyone is going to like you
Local politics can be intense! Running for anything as a resident of merely five years in a New England town takes guts. Several younger residents who are new to Arlington politics were elected this year, and not everyone is happy about it. In fact, some have been downright hostile. But I'm proud of the work I did to get elected and optimistic that I can work for incremental, positive changes in my community. Bring on the meetings!