One thing I did not expect about parenthood is how weird it is to be an introverted parent. Between hours spent at the playground, a grueling birthday-party schedule, and the dreaded preschool parent social, it's one forced interaction with my fellow parents after another. I don't want to talk to strangers about raising kids, I just want to stare off into space for a little while. Is that so wrong?
To make matters worse, my introverted husband and I somehow managed to produce a dyed-in-the-wool extrovert. For my daughter, every stranger is a future friend. The likelihood of someone being anything less than completely delighted to meet her is so remote, so far removed from her experience, that it doesn't seem to enter her mind as a possibility. Before her second birthday, my daughter started shoving me over toward other parents at the playground, exclaiming, "This is Mommy!" Then she would grin encouragingly at me, as if to say, "Go ahead! Make friends!" So when our Assistant Director, Amy Goldstein, encouraged me to run for Arlington Town Meeting, the biggest drawback wasn't the late-night meetings or the rambling testimonies of aggrieved townspeople, it was having to spend more time talking to new people.
My neighborhood of East Arlington has changed a lot in the five years since we purchased our half of a two-family. A lot of these changes are great! What was a deserted Hollywood Video is now a vintage store and a restaurant. What was an empty foreclosure is now a newly-renovated condominium. There's a new path to Alewife Station, new crosswalks, and new bike lanes. And a lot is still changing: our little extrovert is going to be one of 1,000 new students entering Arlington schools in the next five years, w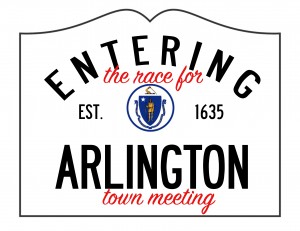 etlands that prevent our basement from flooding are in danger of being developed into condominiums, and there's even a proposal to put in a traffic light right where I've been saying there should really be a traffic light. My precinct has a bunch of open seats and not enough "young" people. So I agreed to run for Town Meeting Member.
The first uncomfortable step was to attend a small gathering of citizens in my precinct to learn about the process of running for Town Meeting. The second uncomfortable step was to get signatures from registered voters in my precinct. And you know, people were really nice. They were warm and encouraging. They said they had seen me around and were happy that I decided to get involved. And hey, as an emotionally-intelligent introvert, The New York Times tells me I can succeed as long as I'm willing to stretch that comfort zone! Never mind that this 2015 piece cites the success of Jeb Bush, who subsequently withdrew from the race after months of bullying from noted extrovert Donald Trump. I'm not running for President of the United States. I'm running to be one of 252 people who attend some meetings.
Election day is April 2nd and there's still a lot to do: postcards to send, meetings to attend, hands to shake, babies to kiss. It makes me think of the reality show cliché where, in the throes of competition, someone faces the camera and explains that the only thing that matters is winning, declaring, "I'm not here to make friends!" Well, it's true that I'm running to win. I'm here to represent East Arlington, including young residents who might be too new, too busy, or too timid to get involved and share their voices. But maybe I'm also here to make friends