Will Reconstruction in Syria be Tripoli's Marshall plan?
By: Claire Wilson
Some say the devastation in Syria has a silver lining for Lebanon's neglected northern city. The World Bank estimates that rebuilding Syria's economy is worth $200billion. Tripoli, just 30km from the Syrian border, could be the reconstruction hub in the post-war era.  In fact, the Tripoli Special Economic Zone is banking on it to drive foreign investment and launch the zone –inshallah in 2020.
Tripoli heading up reconstruction would boost Lebanon's economy, which has slumped since the onset of the Syrian revolution in 2011. Not to mention, it nicely sets up Lebanon to boost trade routes into Iraq and Jordan. The injection of foreign investment, trade, and business operations would offer the unemployed city a variety of jobs in construction, logistics, consulting, and more in rebuilding Syria's new frontier.
So what conditions make the city of Tripoli a likely candidate for this business endeavor?
The port of Tripoli, with an area of 300 million square meters and expanding, enables cargo shipments through the Mediterranean. From there, goods easily flow into Syria.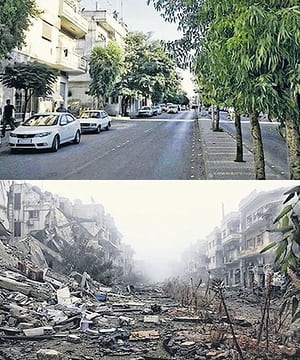 Tripoli has railway tracks that run into Syria's major cities: Homs, Hama, and Damascus, but the rail system needs some rehabilitation to be operational again. The historic tracks were once part of the grand Orient Express, but went out of commission after the Lebanese civil war in 1975.
Beyond geography and trade infrastructure, Lebanon and Syria have historic strong trade relations, with free trade agreements and business partners already in place.
Other Arab neighbors are less likely options. Jordan's southern port of Aqaba doesn't have the strategic geographic positioning. Iraq's got it's own war to deal with before it starts undertaking reconstruction efforts. Turkey's politics with Syria aren't so hot, and may not be for a while.
China's been an eager investor in Syria reconstruction and some say that Tripoli could even be a key port in China's new trillion dollar silk road project which connects Asia to Europe.
However, there is some convincing skepticism worth exploring here.
The question of who pays for postwar development depends on who ends up in power in Syria.  If the Asad regime remains, international institutions, Gulf monarchies, and the West may not be so keen to pay for his mess, unless it's tied to an internationally endorsed peace deal. However, Asad's friends in China, Iran and Russia will likely rush to lend a hand and cash-in. But will it be enough of a cash flow?
Some say Syria's chief ports in Latakia and Tartus have a competitive advantage and could do the trick without Tripoli's help.
And the question on everyone's mind? Even if economic prosperity is on Tripoli's horizon, how long must the city wait? Syria's war is not over and against best intentions, the end appears distant in the horizon.