What to Watch in Israel's Election Today
by Nathan Heath '20
As Israelis head to the polls for the country's third national election in less than a year today, it is still unclear who will emerge as the definitive head of the country's government. Incumbent Prime Minister Benjamin Netanyahu, Israel's longest-serving leader, is locked in a close race with General Benny Gantz, who served as the Chief of Staff of the Israel Defense Forces from 2011 to 2015 and was known for his role in military engagements such as Operation Protective Edge. In the first of the previous two indecisive elections in April 2019, Netanyahu's Likud party won 35 seats, as did Kahol Lavan, or the Blue and White party (co-led by Gantz and Yair Lapid). In the second election, held in September 2019, Blue and White won 35 seats, while Likud won 33. Neither Gantz nor Netanyahu has been able to secure the 61 votes needed to form a government in the 120-member Knesset. With the fate of Israel's leadership still uncertain, here are a few critical factors that could decide the election: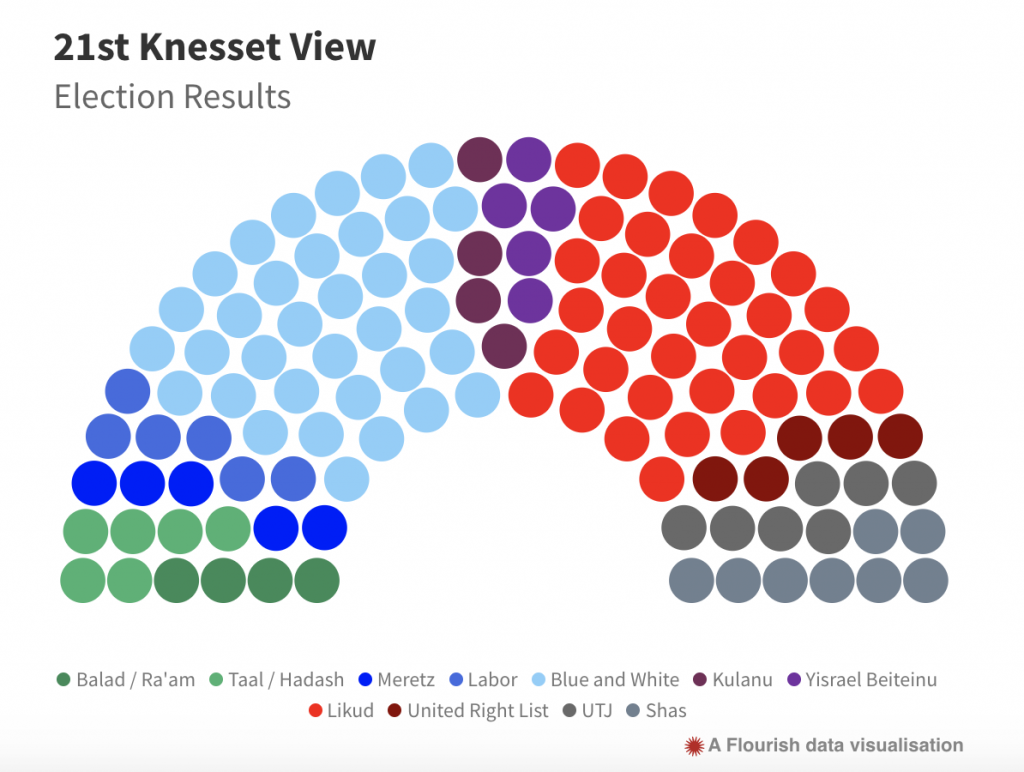 1. Voter turnout. With Israel now reporting seven cases of the novel coronavirus, or COVID-19, there are questions of how much fears of contagion will affect voter turnout. Moshe Bar Simon Tov, Direct General of Israel's Ministry of Health, has said there are 16 special polling stations set up for the 5,630 Israelis under quarantine, urging people to go vote. Voter fatigue could also be a factor, as many Israelis are jaded by previous failures to form a government; a poll conducted by the Israel Democracy Institute (IDI) even indicates that 30% of Israelis predict a fourth election. However, so far voter turnout seems to be very strong, with early reports indicating that it stands at 38.1% before 2 pm local time, the highest level at that time of day since 2013. The continuation of such strong voter turnout could be a decisive factor in this election.
2. Netanyahu's Political Appeal. Now Israel's longest-serving prime minister, Netanyahu's re-election has become more complicated by the fact that in November, he was formally indicted on criminal charges of bribery, fraud, and breach of trust. In late January, the prime minister withdrew his bid for immunity from the criminal charges, allowing himself to face possible consequences in the court system but decreasing the power of opposition forces in Parliament to debate the matter and detract from his political campaign. IDI polling conducted in November 2019 indicated that 59% of Israelis thought Netanyahu should step aside following his indictment. The prime minister's corruption saga has tainted him even within his own party, leading fellow Likud member Gideon Saar to mount an unsuccessful challenge to his party rule with Netanyahu's handling of the indictment as motivation. Nonetheless, it still remains to be seen to what extent the indictment will affect today's election results.
3. The "Deal of the Century." The Trump administration released its long-anticipated Middle East Peace Plan on January 28. U.S. President Donald Trump was joined by Netanyahu at the White House to unveil the plan, with Palestinian Authority (PA) President Mahmoud Abbas noticeably absent. The plan has received wide-spread criticism from the right- and left-wings of the Israeli political spectrum, although both Likud and Kahol Lavan have both indicated their favorability towards it.
On the Israeli left, Meretz leader Nitzan Horowitz praised it and bid for a place on the negotiating team. Meanwhile, however, MK Yousuf Jabareen of the Joint List alliance of Arab parties has criticized the plan for "ignoring the rights of the Palestinians according to law" and indicated the Joint List would not support Kahol Lavan after the elctions given Benny Gantz's plan to adopt the Trump plan if elected. Labor MK Itzik Shmuli also lambasted the plan as "the fraud of the century" over its elements of territorial annexation.
Perhaps even more critically, the Israeli right has also blasted the plan, complicating both Likud and Kavhol Lavan's chances of governing if elected, given that they would likely need to whip votes from the right to gain the necessary 61 seats. There are questions of how ultra-orthodox parties such as United Torah Judaism and Shas will react to the peace plan. Analysis is divided on whether the Trump peace plan will unite Israel's right behind any government implementing the plan because of how it justifies Israeli settlements in the West Bank or whether the far-right views on rejecting the idea of a Palestinian state will keep those right-wing parties in isolated blocs opposed to joining a more centrist government by either Likud or Blue and White. And Avigdor Liberman, leader of the Yisrael Beytenu party, who has long held a personal grudge against Netanyahu, has criticized it as a distraction being used by the prime minister to distract from critical issues such as healthcare, budgeting, and dealing with Hamas.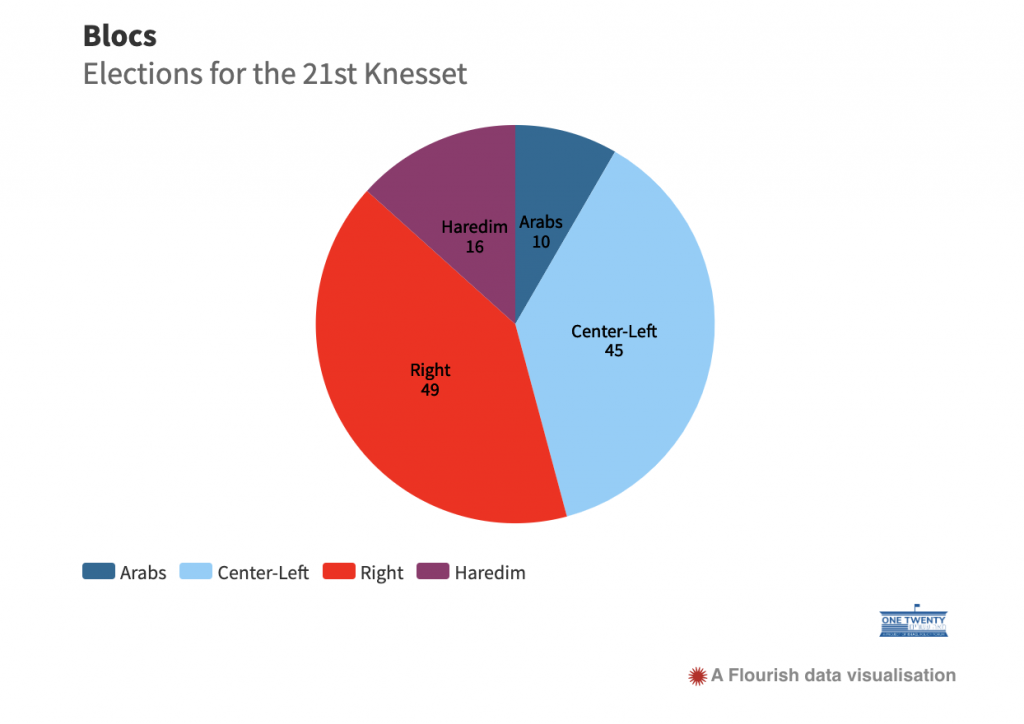 4. Right- and left-wing voting activity. Both left- and right-wing criticisms of Netanyahu, Gantz, and the Trump peace plan are tied to questions of voter turnout among those angry with the status quo, and this could be a pivotal factor in deciding the election. On the left, voter turnout among Arab Israelis/Palestinian citizens of Israel is a particularly critical factor. given that it rose to 61% in the September 2019 election. Furthermore, it is quite possible that a huge number of left-wing Jewish voters will be voting for Arab parties because of their frustrations with the country's traditional "Zionist" parties, If Arab voter turnout increases even more from the September 2019 election, the Joint List could be a major disruptive force to Kahol Lavan's plans for governance, even if the Labor-Gesher-Meretz coalition does not grow beyond its 10 seats.
On the right, the question of how Israeli settlers will vote is a critical question. There are 450,000 Israeli settlers living in more than 250 settlements and outposts on the West Bank, but the settler population has a record of high voter turnout. Netanyahu has tried to woo the settler vote with his annexation pledges. It is unclear, however, if these attempts to shore up the settler vote will win out over splintered views among the settler population, including settler leadership that is steadfastly committed to opposing the establishment of a Palestinian state.
These are just a few of the things to watch today as Israelis head to the polls. Regardless of the outcome, Israel will struggle with political polarization, popular disillusionment, and complex party politics for some time. If nothing else, it is heartening to see one of the more democratic countries in the Middle East engaging in vibrant electoral activity repeatedly without state failure or a total embrace of authoritarian governance. Nonetheless, the country will do well to decide a government soon, or it may struggle to make critical decisions at an ever-more volatile time in a region undergoing tremendous geopolitical shifts yet again.
The author also wishes to acknowledge the wide variety of podcasts critical to the research for this article, among them World Politics Review, Haaretz Weekly, People of the Pod, and the Israel Policy Forum.
Photo of election billboards courtesy of The Wall Street Journal.