Participating in the Tufts Marathon Challenge is a great opportunity for students to train for and run in the Boston Marathon, one of the most prestigious such races worldwide.  This year, there's a team of 15 Fletcher students joining the Tufts team.  They have to meet a fundraising goal as a requirement of their participation, and they have worked together (selling "King Cakes," sponsoring an event at a nearby pub) and individually to meet the goal.
This week, three representatives of the Fletcher team went downtown to the Greek Consulate General in Boston for the ceremony of presenting traditional olive wreaths to the Boston Athletic Association, which will, in turn, present them to the Marathon winners on Monday.  Here's Vanessa, who told me about the event, with the wreaths next to her: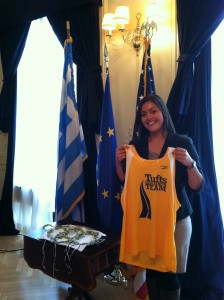 And since no event would be complete without a Fletcher flag, here are runners Jon, Morgan, and Vanessa, with the Boston Athletic Association president.  To the left is another Fletcher student, Alexandros, who is the liaison between the team and the Greek Consulate.  (I'm obliged to note that the photo is from Alex Mavradis Photography.)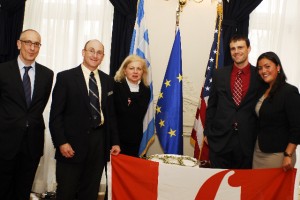 The marathoners have been training for months, balanced (of course) with Fletcher classes.  It's a big task for experienced runners, and most years the Tufts team will include some relative novices.  The  runners tell their stories on their individual pages to which I've linked below.  So, without further ado.  Introducing the 2012 Fletcher runners in the Boston Marathon for the Tufts Marathon Challenge.  Go team!!
Rishikesh K. Bandary
Jocelyn Braddock
Sean Duggan
Rachel Fredman
Jonathan Hirsch
Kathleen Hurley
Kei Koga
Sooyeon Kang
Kosar Jahani
Maria Kingsley
Morgan Lerette
Lauren Liecau
Peter Park
Manny Peralta
Vanessa Vidal Castellanos