Five-Year Updates: Meet Georgia Iordanescu F'07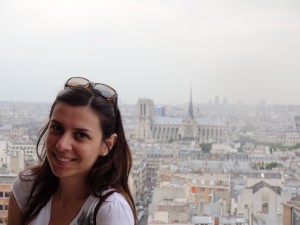 Today I'm sharing the second of the Five-Year Updates from alumni in the Fletcher Class of 2007.  Please meet Georgia Iordanescu.
Before starting off my master's degree at Fletcher, I had worked for several years in the public sector of my native Romania, and I had been academically and professionally trained in law and international security studies.  It was not a surprise that, in my first year at the Fletcher School, I would pursue a fairly natural continuation of related studies.
Halfway through my degree however, I decided to step out of my comfort zone and leap into uncharted territory: energy and natural resources economics.  My second-year coursework ranged from Professor Bill Moomaw's clean tech and energy policy classes, to development economics and finance.  While I was working on my master's thesis on energy policy in China, I learned about a Global Consulting class that was pairing up a small group of students with different organizations to work on their designated projects.  I chose an energy consulting project proposed by Hitachi, and six months into the project I was selected to continue working at Hitachi's headquarters in Tokyo on renewable energy projects and policy recommendations.  This extraordinary opportunity to work on tangible energy projects while furthering my education has unquestionably swayed me into the professional direction that I am pursuing today.
Five years after my graduation, energy has become central to my professional craft and it blends in seamlessly with the unparalleled interdisciplinary education in international law, finance, and economics that I received at Fletcher.  In my work, I assist governments in Sub-Saharan Africa — primarily in Namibia, Mozambique, Rwanda, Kenya, Nigeria, and Lesotho — to enable the development of grid-connected renewable energy projects, to mobilize independent power producers, and to facilitate the formation of competitive electricity markets in their respective countries.