Beautiful day to sit outside and read
Continuing the reading list theme, I would nonetheless be remiss if I didn't first tell you about the beautiful late spring day we're experiencing today.  The sky is completely cloud free — so beautiful I couldn't resist snapping a photo.  See for yourself: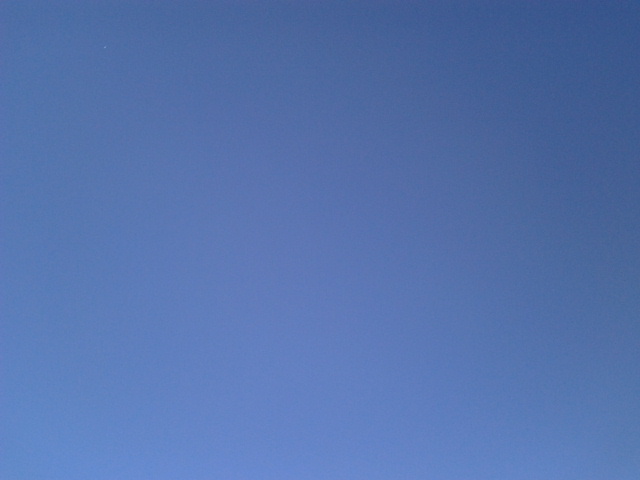 If I weren't at work, it would be a perfect day to grab a book and read.  Before I go ahead and list more suggestions for your summer reading, I want to take a step back and provide a more complete explanation of why I'm including the faculty book picks in the first place.  I generally try not to post information that is relevant only to one subset of blog readers, and the blog is not, in fact, the most efficient way for us to reach incoming students.  But some of the people who will be joining us for Orientation in August check the blog, and some of those are interested in a little pre-Fletcher reading.  And if you're not an incoming student this year?  Well, you may still want to read something recommended by our professors.  So back to the list.
Today's amazing list comes from a single source.  Prof. Bridget Conley-Zilkic, the research director for the World Peace Foundation, offered up at least a season's worth of options, explaining, "Given that we're talking about summer reading, I'll do my best to keep it to the more narrative-focused texts.  Granted, many of these are atrocity focused."  Even those who may never interact with the WPF might want to read about these still-relevant international events.  Here's the list:
Chinua Achebe, Girls at War (short stories, Nigerian civil war)
Deborah Scroggins, Emma's War (non-fiction, Sudan)
Sven Lindquist, Exterminate All the Brutes (non-fiction, colonial Africa)
Kang Chol-Hwan, The Aquariums of Pyongyang (non-fiction, North Korea)
Jason Stearns, Dancing in the Glory of Monsters (non-fiction, DRC)
Sheri Fink, War Hospital (non-fiction, Bosnia)
Clea Koff, The Bone Woman (non-fiction, Bosnia, Rwanda, Kosovo)
Semezdin Mehmedinovic, Sarajevo Blues (poetry, Bosnia)
Aleksander Hemon, The Question of Bruno (short stories, former Yugoslavia)
Courtney Angela Brkic, The Stone Fields (fiction, Bosnia)
Anything by Slavenka Drakulic (fiction & non-fiction, Croatia)
Bob Shacochis, The Immaculate Invasion (non-fiction, Haiti)
James Dawes, That the World May Know: Bearing Witness to Atrocity (non-fiction, human rights)
Adam Hochschild, King Leopold's Ghost (history, Congo) or To End All Wars (history, peace movement and WWI)
Wade Davis, Into the Silence: The Great War, Mallory and the Conquest of Everest (history, UK, WWI and, obviously, Mt. Everest).
And for anyone who can handle theory by the beach: Judith Butler, Frames of War and Susan Sontag, Regarding the Pain of Others (these two are best read together), and just about anything by Hannah Arendt or Jacques Rancière.