Five-Year Updates: Meet Darren Long F'08
 Time to check in with another 2008 graduate.  Please meet Darren Long who, like our newest students, was a "Januarian."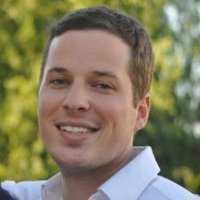 The Fletcher School appeals to a certain kind of person and from the moment I discovered the school, I knew I was one of those people.  Fletcher's broad, globally-oriented and cross-functional course listing matched my interests perfectly, stretching from agricultural economics to international negotiation to diplomatic history.  The independence allowed by the MALD program would allow me to combine foundational courses with insightful and cutting-edge topical subjects to pursue a truly unique course of study.  And the backgrounds of Fletcher's students and alumni was proof that it was a gathering place for like-minded individuals.
I joined Fletcher at the beginning of 2007 as "Januarian," along with about 20 other students starting at mid-year.  We were immediately swept up in class schedules, along with a range of other social events.  My Fields of Study were Pacific Asia and Development Economics, with a particular focus on China, where I had lived and worked prior to Fletcher.  I also found Fletcher's courses in policy analysis, international business law, agricultural policy, and analytical frameworks to be especially useful.
Following my first semester, I moved back to China for the summer to study Mandarin and prepare for Fletcher's language requirement.  While there, I connected with Ecom Trading, one of the world's oldest physical commodities firms, and was offered a position as a commodity market analyst in Shanghai following graduation.  My knowledge of Chinese political economy — which greatly impacts global commodity markets — along with agriculture, economics, and finance, made for a unique set of competencies, developed in large part while at Fletcher, that directly helped me to land the position.
I was able to build preparation for my upcoming professional role into the rest of my coursework at Fletcher, making analysis of the Chinese cotton sector the focus of my thesis, and completing a one-semester exchange program at the China Europe International Business School in the Fall of 2008.  The combination of work and study helped me both prepare better for my career and make use of all of Fletcher's many resources.
Since graduating from Fletcher, I have worked for Ecom as a commodities trader in China, Australia, and the United States.  On a given day I may work on a deal with a large Asian trade house or U.S. producer; buy and sell commodity derivatives; write a market report or policy memo; analyze futures prices or supply and demand information; examine a sustainability project; or prepare a case for international arbitration.  And it was my experience at Fletcher that helped prepare me for all of these endeavors and more.