Five-Year Update: Constantin Sabet d'Acre, F10
It's Friday and, having begun my week with newly admitted students, I'd like to turn to one of our 2010 graduates.  Constantin is a "double Jumbo," holding two Tufts degrees.  He combined his undergraduate BA with the two-year MALD, reducing his total study time for the two degrees from six years to five.  Few undergraduates have their requirements sufficiently complete to apply to the MALD, and only a few of the applicants are admitted.  I remember meeting Constantin before he even applied and I was very pleased that he agreed to provide a Five-Year Update.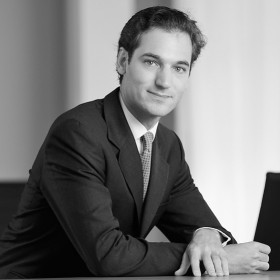 Honored to be one of the lucky few "BA-MALD" students at Fletcher, I still remember when I stepped into my first Fletcher class.  Intimidated by my peers, who had accumulated years of experience across an incredible variety of fields, I was also very excited to learn from and grow with them.  And so, for two years, I was fortunate to have fun learning both in the classroom and outside of it.  The students at Fletcher are really its greatest resource: sharp, cross-cultural, filled with fascinating viewpoints and open-minded.  I'm glad I have them as friends today.
Fletcher was a natural step for me at the time.  I was eager to further my studies on the complex web that is international affairs, while also building my academic background on business topics, as I had set my eyes on finance post-grad school — Fletcher was the perfect place to do it.  In the classroom, I focused on International Business Relations and Pacific Asia, while also exploring other topics of interest such as Maritime History and Comparative Legal Systems, and writing a thesis on the rapidly evolving business environment and regulatory framework for M&A (mergers and acquisitions) in China.  To further my business studies, I took classes at Harvard Business School, thanks to the cross-registration agreement Fletcher and HBS share.  I also spent time with students and professors pushing ideas to develop a non-profit I had been running for a few years, and attending engaging conferences.  The academic environment at Fletcher was exciting, challenging, and fulfilling, and it left me well prepared for my next challenge.
After Fletcher, I moved to New York and joined UBS Investment Bank, where I helped advise global manufacturing and natural resource businesses on mergers and acquisitions, as well as capital market transactions.  It was great to apply the knowledge I gained at Fletcher.  Professor Jacque's teachings in accounting and corporate finance were naturally very helpful, while the ability to see the big picture and analyze complex interactions developed in International Relations classes allowed me to add more value while working on deals.  Fletcher also strengthened my comfort working with people from different cultures in different languages.  After a few years in M&A, I started work at Advent International, one of the largest and most experienced global private equity investors, in Paris.  The experience here has been phenomenal, analyzing potential investment targets and working alongside portfolio companies to help them grow.
Altogether, my two years at Fletcher were incredibly rewarding, from fantastic relationships, to exceptionally interesting classes, to new skills developed.  I'm proud to be a part of the Fletcher community!