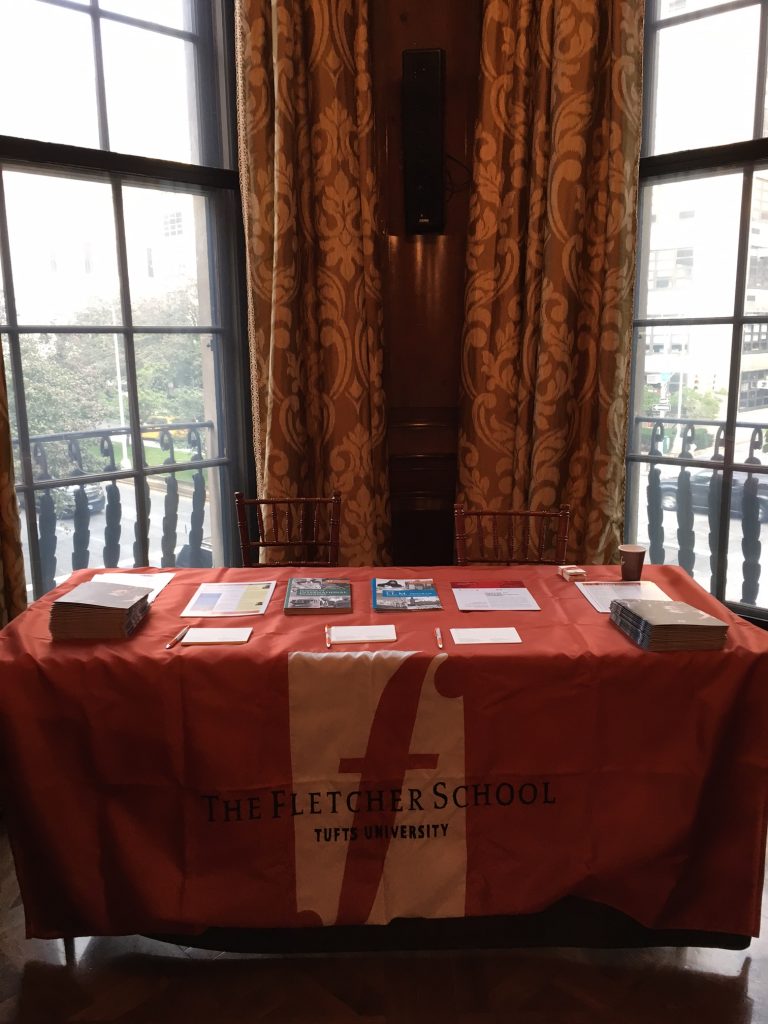 Tucked in the corner of a grand room at the Council on Foreign Relations, I enjoyed the APSIA graduate school fair on Tuesday.  With the curtains behind us, we looked pretty fancy.  Most of the evening is a non-stop talk-fest, but there were a few moments when I could chat a little longer with visitors.  I had two alumni with me, Justin, who worked in the Admissions Office for two years, and Atanas, who was a two-year student member of the Admissions Committee and who has sent me occasional updates since he graduated.  They're both well settled in their post-Fletcher careers and lives, which is great to see.
Before the fair, I had a spare hour and I also met up with my friend and Fletcher alum, Charlie Scott, F94.  We caught up on general life stuff, but I also got the details on his upcoming crazy shenanigans.  (One of his past trips described here.)  He and his "Team See Possibilities" pals will be participating in a run/kayak (or was it run/bike/kayak) endurance challenge at and near the Great Wall in China.  I'll share details in November when I have them.
I hear that the Washington, DC APSIA fair was also super busy for Liz.  Besides the opportunity to meet folks, the fairs give us a sense of what prospective students know about Fletcher at this point in their application year.  That's useful for me as blogger — I'll try to cover some key topics as September and October roll on.
My next fair will be Boston Idealist.  That's a big one, and I won't have as grand a setting for the Fletcher table, but I'll look forward to meeting prospective students from the local area.