Colombian President Juan Manuel Santos returns to Fletcher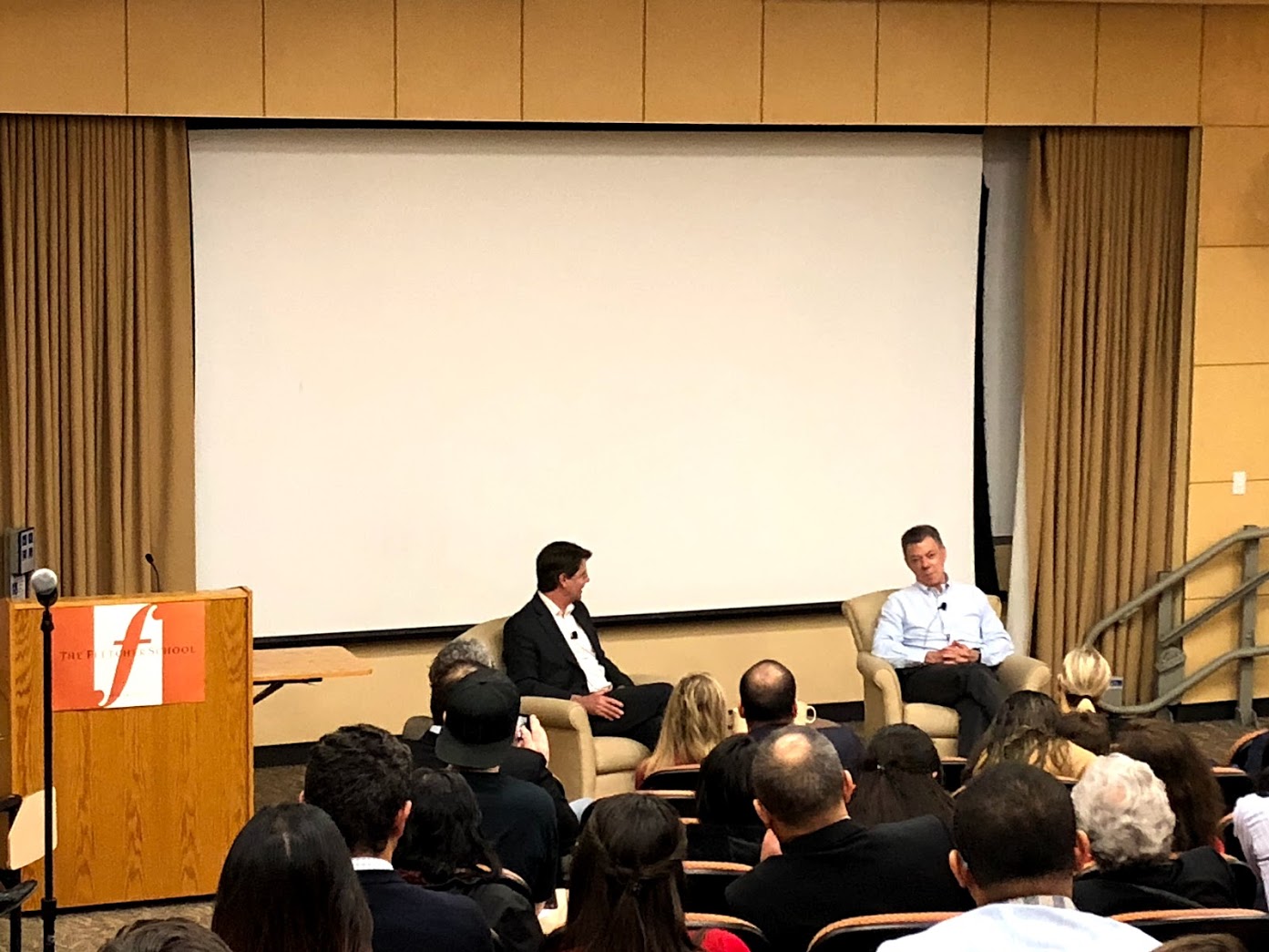 Fletcher is one of the few places where being able to drop in casually on a conversation with a Nobel Peace Prize laureate seems like a fairly normal Monday afternoon activity. Still, it felt like a special treat yesterday to catch the visit to Fletcher by former Colombian President Juan Manuel Santos. Santos was Colombia's President from 2010 to 2018, and is best known globally for his stewardship of peace negotiations with the FARC rebels that led to the end of the country's 52-year conflict (and which earned him the 2016 Nobel). The event was also a special homecoming: President Santos is a long time member of the Fletcher community, having spent time here as a Fulbright visiting fellow in 1981.
After a screening of the short documentary film Port of Destiny: Peace, recounting his role in the peace negotiations, Santos spoke with Dean Johnstone about the Colombian peace process specifically and his political career more generally, and also took questions from the audience. I found it particularly interesting to hear his remarks on his own political evolution, and the change in public perception of him from a quite hawkish Minister of National Defence (in which capacity he authorized a number of controversial military actions against FARC leadership) to a more dovish President (in which he expended a great deal of political capital to finalize the peace accords in the face of considerable opposition). He spoke candidly about dealing with the unexpected political blow of the initial peace deal being narrowly defeated in a popular referendum in 2016, the decision to send a revised deal to Congress for ratification rather than a second public referendum, and sacrificing political popularity to achieve longer-term peace.
The coolest thing about this event, though – and an illustration of something that makes Fletcher the singular place it is – was the degree of intimacy. The ASEAN auditorium is big enough, sure, but it's not THAT big. There's no stage or dais, and little sense of remove between speaker and audience. President Santos is of course a practiced and polished speaker, but his conversation with Dean Johnstone felt much more like an extemporaneous chat than a rote stump speech. The venue also encourages audience participation, and many Fletcher students took advantage of the opportunity to ask for his thoughts on American political polarization, policy recommendations for the Venezuelan crisis, and his analysis of ongoing conflict in Afghanistan, among other topics (the young son of one of our students was even brave enough to step up to the mic with a question).
All in all, a pretty engaging Monday afternoon, and a tall order for today to match!