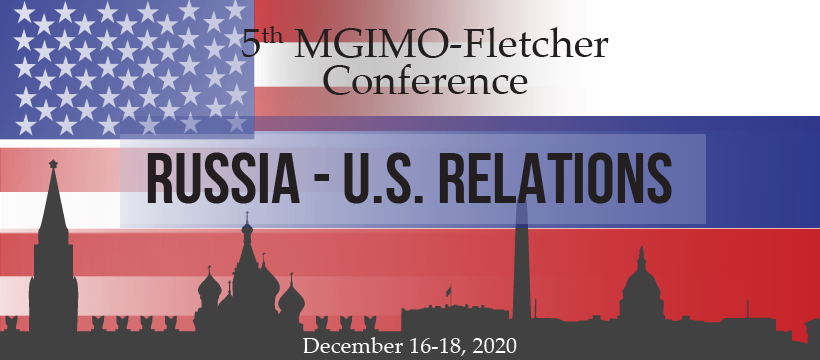 The Moscow State Institute of International Relations (MGIMO University) of the Russian Federation Ministry of Foreign Affairs and The Fletcher School of Law and Diplomacy at Tufts University will hold their fifth joint conference on Grand Challenges in Russia-U.S. Relations on December 16-18, 2020 on the MGIMO University campus. The conference will compare methods of forecasting the future of international politics used by U.S. and Russian scholars. The aim of the event will be to ascertain similarities and differences both in forecasting methods and in expected outcomes. The conference will begin with a discussion of forecasting methodology before turning to a conversation about the likely future path for the international order and the great powers. Simultaneously with expert roundtable discussions, Fletcher and MGIMO master's students will jointly prepare forecasts on the rise of China, economic inequality, trade protectionism, and the changing Arctic to deliver to U.S. and Russian decisionmakers.
The event is being organized by The Fletcher School and MGIMO University in partnership with Carnegie Corporation of New York and the Davis Center for Russian and Eurasian Studies at Harvard University. The previous MGIMO-Fletcher conferences on Russia-U.S. relations held in November 2017, May 2018, March 2019, and April 2019 provided an opportunity to clarify disagreements and potential areas of cooperation between the United States and Russia. The goals of the joint MGIMO-Fletcher conference series are to examine both the depth and scope of disagreements between the United States and Russia, assess the potential for bilateral cooperation in the areas of shared interests, educate future U.S. and Russian decision-makers, and foster mutual understanding between Russian and American scholars and practitioners.
We are thankful for the support of our sponsors, partners, and volunteers. When tweeting about the event, please use #FletcherMGIMO.