European Security Dialogue: Ukraine, Russia, and the West
February 2 @ 12:00 pm

-

1:30 pm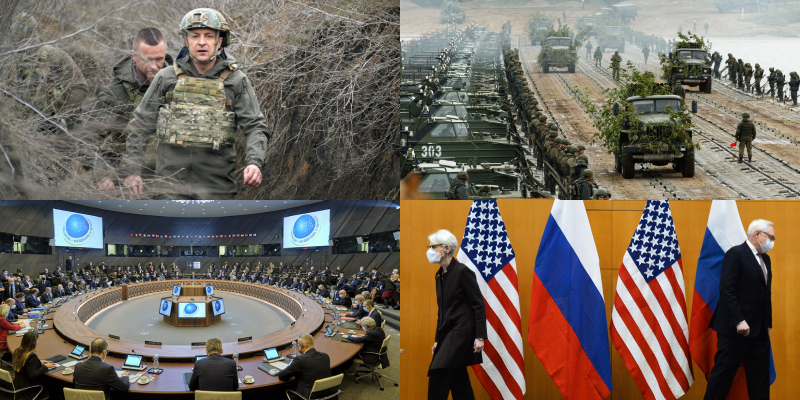 Please join the Russia and Eurasia Program at The Fletcher School for a virtual panel discussion on the evolving situation in Ukraine and the emerging European security dialogue between the West and Russia. Please make sure to register via myFletcher to participate in the event on Zoom.
Questions:
How did the current crisis between Russia and the West come about? What security guarantees does Russia want from the West? How do different NATO members and Ukraine understand European security?
What are the short- and long-term priorities of both sides? Are there misperceptions on either side that are not being fully taken into account? Why does Russia prefer bilateral negotiations with the United States over multilateral negotiations?
Why is the West providing security assistance to Ukraine? Why is NATO's open-door policy non-negotiable? What is the likelihood of reaching deals on missiles and military exercises?
What explains Russia's massive military buildup and drills taking place near Ukraine's border? How is Ukraine reacting to the evolving situation? Are Western threats of additional sanctions and deployments of troops effective in deterring Russia?
What role could the Normandy Format and the OSCE play in the ongoing talks between Russia and the West? Does the Minsk peace process remain viable?
What is the probability of a major conflict escalation between Russia and Ukraine? Does a path exist to a peaceful, diplomatic solution? How might the West respond to new military moves by Russia in Ukraine?
Speakers:
| | |
| --- | --- |
| | Liana Fix is the Program Director (on sabbatical leave) for the International Affairs Department at the Körber-Stiftung in Berlin, Germany. She was previously a researcher at the German Institute for International and Security Affairs (SWP) with a special focus on Germany's role in Europe, Russian foreign policy, and the South Caucasus. She was a DAAD/AICGS Fellow and was affiliated with the German Council on Foreign Relations (DGAP). She was also a Mercator Fellow in International Affairs, working on European and transatlantic policy toward Russia at the German Foreign Office, the Carnegie Moscow Center, and the EU Delegation in Georgia. She is a historian and political scientist, and her work focuses on Russia and Eastern Europe, European security, arms control, and German foreign policy. She has published widely in academia, think tanks, and national and international media. She holds a doctorate degree from the Justus Liebig University Giessen and a master's degree from the London School of Economics and Political Science. She is a member of Women in International Security. |
| | Chris Miller is Assistant Professor of International History at The Fletcher School and Co-Director of the Russia and Eurasia Program. He has previously served as Associate Director of the Brady-Johnson Program in Grand Strategy at Yale, a lecturer at the New Economic School in Moscow, a visiting researcher at the Carnegie Moscow Center, a research associate at the Brookings Institution, and a fellow at the German Marshall Fund's Transatlantic Academy. He has written three books, The Struggle to Save the Soviet Economy: Mikhail Gorbachev and the Collapse of the USSR (2016), Putinomics: Power and Money in Resurgent Russia (2018), and We Shall Be Masters: Russian Pivots to East Asia from Peter the Great to Putin (2021). He received his Ph.D. and M.A. from Yale University and his B.A. in history from Harvard University. |
| | Igor Istomin is an Associate Professor at the Department of Applied Analysis of International Issues at MGIMO University. He holds Ph.D. and M.A. degrees from MGIMO University as well as an undergraduate degree from Saint Petersburg State University. Istomin teaches undergraduate and graduate classes in methods of applied analysis of international affairs. He is an executive editor at International Trends, a leading Russian academic journal. He is also a visiting fellow at the School of International and Public Affairs at Jilin University in China. Istomin is the author of more than 50 publications on U.S. foreign policy, relations in the Euro-Atlantic space, and international security. His most recent book is The Logic of State Behavior in International Politics (2017). He has also prepared policy reports and papers for the Russian International Affairs Council, the Valdai Discussion Club, the Center for Strategic Research in Moscow, and the European Leadership Network. |
| | Oxana Shevel is an Associate Professor in the Department of Political Science at Tufts University. Her research and teaching focus on the post-Communist region surrounding Russia and issues such as nation- and state-building, the politics of citizenship and migration, memory and religious politics, and challenges to democratization in the post-Soviet region. She is the author of Migration, Refugee Policy, and State Building in Postcommunist Europe(2011), which examines how the politics of national identity and strategies of the United Nations High Commissioner for Refugees shape refugee admission policies in the post-Communist region, leading countries to be more or less receptive to refugees. Shevel's current research projects examine the sources of citizenship policies in the post-Communist states; church-state relations in Ukraine; the origins of separatist conflict in Donbas; and memory politics in post-Soviet Ukraine. Shevel holds a Ph.D. in Government from Harvard University, an M.Phil in International Relations from the University of Cambridge in England, and a B.A. in English and French from Kyiv State University in Ukraine. Prior to coming to Tufts, she taught at Purdue University and held post-doctoral appointments at the Davis Center for Russian and Eurasian Studies and at the Harvard Ukrainian Research Institute. |
| | Sergey Utkin has been the Head of the Strategic Assessment Section at the Primakov Institute of World Economy and International Relations (IMEMO), Russian Academy of Sciences, since 2016. From 2016 until June 2018 he also headed the Foreign and Security Policy Department at the Moscow-based Centre for Strategic Research. In 2012-2016 he worked at the Centre for Situation Analysis, Russian Academy of Sciences, now merged with IMEMO. In 2006-2013 he worked at IMEMO, where his last position was Head of Section for Political Aspects of European Integration. He holds a PhD in Political Science (International Relations), which he received at IMEMO in 2006 for his thesis on Common Foreign and Security Policy of the EU. In 2002 he graduated from the Moscow Pedagogical State University, School of History. His research is focused on foreign and security policy of the EU, the EU's relations with Russia and the US, Russia's foreign policy in the Euro-Atlantic area. |