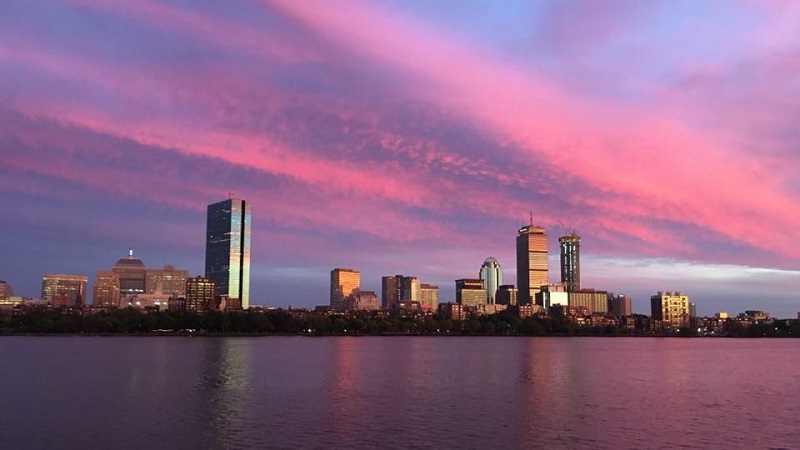 Tuesday, October 22, 2019 | 12:00-2:00pm
Littauer L-369, Belfer Center Library, 79 JFK St., Cambridge, MA
Join Russia Matters for a talk by Robert Hamilton, an associate professor of Eurasian Studies at the U.S. Army War College and a Black Sea Fellow at the Foreign Policy Research Institute (FPRI). Hamilton, a retired Army colonel specializing in post-Soviet and Balkan security issues, will discuss his new report on the war in eastern Ukraine. Timothy Colton, Harvard's Morris and Anna Feldberg Professor of Government and Russian Studies, will moderate. RSVP to RussiaMatters@hks.harvard.edu by October 21.
Speaker:
Robert Hamilton, associate professor of Eurasian Studies, U.S. Army War College; Black Sea Fellow, Eurasia Program, Foreign Policy Research Institute.
Moderator:
Timothy Colton, Morris and Anna Feldberg Professor of Government and Russian Studies, Harvard University.
Chat & Chowder with Dr. Angela Stent | Putin's World
Tuesday, October 22, 2019 | 6:00-7:30pm
McDermott Will & Emery
28 State Street, Boston, MA
WorldBoston's Chat & Chowder features key authors on international affairs in an engaging setting. In addition to discussion of a featured book (usually sold at a significant discount), the program offers the opportunity for discussion among members and guests – and of course a selection of chowders and beverages. Tickets $15 for WorldBoston members and $25 for general admission.
In her recent book titled Putin's World: Russia Against the West and with the Rest (2019), Angela Stent examines Russia's turbulent past, how it has influenced Putin, the Russian's understanding of their position on the global stage, and their future ambitions, as well as their conviction that the West has tried to deny them a seat at the table of great powers since the USSR collapsed. This book looks at Russia's key relationships — its downward spiral with the U.S., Europe, and NATO; its ties to China, Japan, and the Middle East; and with its neighbors, particularly the fraught relationship with Ukraine. Putin's World will help Americans understand how and why the post-Cold War era has given way to a new, more dangerous world—one in which Russia poses a threat in every corner of the globe, and has become a toxic and divisive subject in U.S. politics.
Starr Forum: The Kremlin's Global Outreach: From Cyber to Russians Abroad
Thursday, October 24, 2019 | 4:30-6:30pm 
Building E15, 070 Bartos Theater
20 Ames St, Cambridge, MA 02142
A session of the "Focus on Russia" lecture series co-chaired by Carol Saivetz and Elizabeth Wood.
Speakers:
Andrei Soldatov is a Russian investigative journalist and Russian security services expert
Irina Borogan is a Russian investigative journalist
Together they are co-founders and editors of the Agentura.Ru website. Their most recent book is The Compatriots: The Brutal and Chaotic History of Russia's Exiles, Émigrés, and Agents Abroad.  Their other books include The New Nobility: The Restoration of Russia's Security State and the Enduring Legacy of the KGB and The Red Web: The Struggle Between Russia's Digital Dictators and the New Online Revolutionaries.
Memories of Working on Dissidents and Soviet Politics, 1960 – 1991
Tuesday, October 29, 2019 | 12:00-1:15pm
CGIS South Building, 1730 Cambridge Street, Room S354
This lecture will tackle selected episodes from Peter Reddaway's book of memoirs (The Dissidents: A Memoir of Working with the Resistance in Russia, due Feb 2020).
Peter describes "what seemed like a fatal blow to my prospects of ever making a career in Soviet studies turned out to be a blessing in disguise. While my expulsion from the USSR in 1964 meant that I couldn't return for the next 24 years, it also released me to write freely about Soviet dissidents, in whom I became increasingly interested as their human rights movement took off in the late 1960s. There was no need to worry about how to get my next visa to the USSR. My research in Soviet media and samizdat literature, and my personal contacts with dissidents, soon persuaded me that the Kremlin was increasingly worried about the increase in oppositional attitudes, which, it reckoned, required tougher suppression than it could afford to impose, if it was to maintain East-West peace and reliable access to often badly needed Western grain. In due course, the Gorbachev leadership decided to try to resolve this dilemma by 1. decisively opening Russia up to the West, and 2. releasing all the dissidents and ruling by what it hoped would be popular consent. However, the dissidents now played a notable role in mobilizing popular demands in many cities and various republics that communist rule be ended and, if necessary, the USSR abolished."
Peter Reddaway, Professor Emeritus of Political Science, The George Washington University
Understanding Grassroots Activism in Russia
Thursday, October 31, 2019 | 12:00-1:15pm
CGIS South Building, 1730 Cambridge Street, Room S354
Despite a lull after the Soviet collapse, grassroots activism in Russia is growing. The protests for free elections that swept across Russia this summer may have captured international headlines, but many other grassroots groups have been organizing over the last decade. What types of civic movements exist in today's Russia? What risks do activists face? How do they interact with the state or state-protected interest groups? Finally, what role could grassroots groups play in democratizing Russia? Yevgeniya Chirikova sheds light on these questions through her experience as an environmental activist and creator of Activatica.org, a website covering Russian grassroots activism.
Speakers
:

Yevgeniya Chirikova
, Environmental Activist
Elizabeth Plantan
, Postdoctoral Fellow, Roy and Lila Ash Center for Democratic Governance and Innovation, Harvard Kennedy School
Moderator:
Aurélie Bros
, Senior Fellow, Energy Project, Davis Center for Russian and Eurasian Studies; Lecturer on Government, Harvard University
The Politics of Legal Pluralism: Why Does Kadyrov Promote Sharia and Customary Law in Chechnya
Friday, November 1, 2019 | 12:00-1:15pm
CGIS South Building, 1730 Cambridge Street, Room S153
This workshop brings together graduate students, postdocs, and area faculty to discuss new work related to politics and economics in the post-communist (and communist) countries of Eastern Europe, the former Soviet Union, and Asia. Visit the Workshop's home page for more information.
Egor Lazarev, Academy Scholar, The Harvard Academy for International and Area Studies; Assistant Professor, Department of Political Science, University of Toronto
From Pugwash to Putin: A Critical History of US-Soviet Scientific Cooperation
Wednesday, October 16, 2019 |12:00-1:15pm
CGIS South Building, 1730 Cambridge Street, Room S354
For 60 years, scientists from the United States and the Soviet Union participated in state-organized programs of collaboration. But what really happened in these programs? What were the hopes of the participants and governments? How did these programs weather the bumpiest years of political turbulence? And were the programs worth the millions of dollars invested in them? From Pugwash to Putin provides accounts from 63 insiders who participated in these programs, including interviews with scientists, program managers, and current or former government officials. In their own words, these participants discuss how and why they engaged in cooperative science, what their initial expectations were, and what lessons they learned. They tell stories of gravitational waves, classified chalkboards, phantom scientists, AIDS propaganda, and gunfire at meteorological stations, illustrating the tensions and benefits of this collaborative work. From the first scientific exchanges of the Cold War years through the years following the fall of the Soviet Union, Gerson S. Sher provides a sweeping and critical history of what happens when science is used as a foreign policy tool. Sher, a former manager of these cooperative programs, provides a detailed and critical assessment of what worked, what didn't, and why it matters.
Speaker(s)
: 
Gerson S. Sher
, Author; Foundation Executive and U.S. Civil Servant (retired);
Loren Graham
, Professor Emeritus of the History of Science, Massachusetts Institute of Technology and Harvard University; Executive Committee Member, Davis Center
Wednesday, October 23, 2019 | 12:00p-1:15pm
CGIS South Building, 1730 Cambridge Street, Room S354
Simon Reznikov, the Boston-based immigrant protagonist of this collection of Maxim D. Shrayer's interconnected novellas, is restless. Set in Providence, New Haven and Boston, but also in places of the main character's pilgrimages such as Estonia and Bohemia, Shrayer's A Russian Immigrant weaves together a literary manifesto of Russian Jews in America.
"Forget all the slapstick, Moscow-on-the-Hudson, burlesque treatments of Jewish Russian émigré life you've ever read. If you want the honest, beautifully rendered, and deeply compelling truth about what it's like to be a Russian immigrant in America, these three braided novellas by the very talented Maxim D. Shrayer are all you need." ―Eileen Pollack, author of The Bible of Dirty Jokes. 
Maxim D. Shrayer, Professor of Russian, English, and Jewish Studies, Boston College; Director, Project on Russian and Eurasian Jewry; Center Associate, Davis Center
Moderator: Rawi Abdelal, Herbert F. Johnson Professor of International Management, Harvard Business School; Director, Davis Center for Russian and Eurasian Studies
Humans of the Polygon: The Victims of the Soviet Nuclear Testing
Friday, November 1, 2019 | 10:00-11:00am
CGIS South Building, 1730 Cambridge Street, Room S354
It has been thirty years since the last Soviet nuclear test rocked the Kazakh steppe at the Semipalatinsk Polygon. However, locals living in the vicinity of the former nuclear testing site, now in their fourth generation, still continue to suffer from devastating health consequences caused by radiation. In this talk, Dr. Togzhan Kassenova, a native of Kazakhstan, will explain why the Soviet military chose Kazakhstan to conduct their nuclear tests, what they did or did not do to protect the local population, and what life looks like today for the victims of nuclear testing. Her talk is based on extensive archival research and fieldwork.
Speaker: Dr. Togzhan Kassenova, Senior Fellow, Project on International Security, Commerce, and Economic Statecraft (PISCES), Center for Policy Research, SUNY-Albany
A Half-Century of Jewish Emigration from the Former Soviet Union: Demographic Aspects
Wednesday, November 20, 2019 | 4:30-5:45pm
CGIS South Building, 1730 Cambridge Street, Room S354
For many years, Soviet Jews, like all other citizens of the USSR, had no real possibility to emigrate in sizable numbers, but this changed in the 1970s. Based on collected data, it is estimated that almost two million Jews and their relatives have emigrated from the former Soviet Union since 1970. Most of this mass emigration occurred since 1989—about 1.7 million. Hence, the mass migration of Jews from the former Soviet Union has a history of about half a century. The dynamics of this emigration fluctuated, characterized by successive waves. The analysis clearly shows the decisive role of the "push factor" in the migration movements in the last three decades. Data shows pronounced selectivity of Jewish migration by age and sex. This emigration caused the size of the "core" Jewish population remaining in the former Soviet Union to dramatically shrink from 2,168,000 in 1970 to 1,480,000 in 1989, and to 248,000 by the beginning of 2019. At the same time, the emigration led to the resettlement of ex-Soviet Jews primarily in three destination countries—Israel, the United States, and Germany. The largest group went to Israel, and the positive demographic transformation of this group—a sizable increase of fertility and fast decrease of mortality—occurred there. As a result of a half-century's mass migration, Russian-speaking Jews now are a worldwide phenomenon. Today, there are about 1.6 million "core" Jews who originated from the former Soviet Union worldwide.
Speaker: Mark Tolts, Hebrew University of Jerusalem
Moderator: Maxim D. Shrayer, Boston College; Davis Center
The Bridge: Natural Gas in a Redivided Europe
Friday, February 28, 2020 | 2:00-4:00pm
The Minda de Gunzburg Center for European Studies at Harvard, Adolphus Busch Hall, 27 Kirkland Street at Cabot Way, Cambridge, MA
Three decades after the fall of the Berlin Wall and the breakup of the Soviet empire, the West faces a new era of East-West tensions. Any vision of a modern Russia integrated into the world economy and aligned in peaceful partnership with a reunited Europe has abruptly vanished. Two opposing narratives vie to explain the strategic future of Europe, one geopolitical and one economic, and both center on the same resource: natural gas. In The Bridge, Thane Gustafson, an expert on Russian oil and gas, argues, that the political rivalries, that capture the lion's share of media attention, must be viewed alongside multiple business interests and differences in economic ideologies.
Speaker: Thane Gustafson, Professor of Government, Georgetown University
Discussant: Rawi Abdelal, Herbert F. Johnson Professor of International Management, Harvard Business School; Faculty Associate, CES, Harvard University; Faculty Director, Davis Center for Russian and Eurasian Studies
Chair: Aurélie Bros, Senior Fellow, Energy Project, Davis Center for Russian and Eurasian Studies; Lecturer on Government, Harvard University